Greentree Naturals Newsletter Winter 2018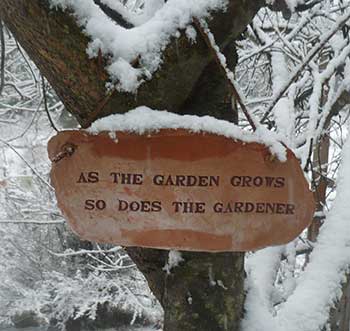 I read somewhere that people don't really notice when it's winter or summer when they are happy. While it would be impossible not to notice it's winter where we live, this saying makes perfect sense to me. Winter here in the north country is held tight by a cold and snowy cloak of white. I love the stillness that holds an almost eerie silence when winter comes. There is something about bundling up to go outside that always makes me happy. I love the sound of freshly fallen snow under my feet and foot prints in the snow. If we didn't love winter, we certainly wouldn't be living where we live.  We know plenty of people who head to Mexico, Arizona, Florida, and California for the snowiest months of winter. Going away for the winter doesn't appeal to us. If we didn't have to go into town for basic supplies, we would be content to just hunker down, snuggle in, and watch the snow falling. We find ourselves quietly satisfied and happy with life on the farm, and winter provides the perfect environment for us to be contented .
This winter, I have been investing time working on contracted projects for University of Idaho and Rural Roots (a regional Sustainable Ag organization). This is the last year of a three year project developing and revising a Farmer Mentor Handbook and training program. The push is on to complete my mission before the farming season begins again. Once completed, what I've written will go through a series of reviewers, authenticators, and edits before being turned into some kind of official UI reference material. Considering this handbook project began in 2004, it will be a good feeling of accomplishment to finally have it out in print in its final version.
When I developed the first Farmer Mentor Handbook and training, it focused on apprenticeships and internships. This final version expands to include different types of mentorship arrangements to include things like hosting and or teaching workshops on the farm, farm immersions, farm tours, consultations, farm schools and more. The goal is to provide a guide to help facilitate the educational process for farmers to teach or train others to do what they do. When you are training an employee, you are basically mentoring them to teach them how to do something. Teaching can be a challenging endeavor if you don't have the ability to clearly articulate what you want to say. Not everyone is comfortable talking in front of a room, and for farmers, even taking the time to explain something can become a burden of time if some planning isn't involved. My goal is to provide a process that makes this transition of knowledge happen with less stress.
I have been co-facilitating and teaching portions of a Starting Your Sustainable Small Farm workshop series for UI, which is a once a month, all day program for the Cultivating Success Program at UI. This program is designed to assist beginner farmers to develop a farm plan, which will give them plenty to think about as they seriously consider farming as a vocation. I am passionate about empowering the next generation of farmers simply because we need more people growing food! With the majority of the farming population aging, it is clear that there is a great need for cultivating a new generation of farmers. Otherwise, where will our food come from?
One other winter project I am working on is with a national organization called the Farm Commons (https://farmcommons.org). This organization works specifically with farmers to assist with legal issues associated with agriculture. I will be co-presenting with one of their lawyers and another farmer at to offer a farmers perspective to some legal issues all farmers face. When I'm not farming, I am teaching something related to farming, and I have found that I have equal passion for both!
Meanwhile, on the farm, we are already planning for the season ahead. Seeds have been inventoried and already arrived. We get pre-orders from customers for growing garden starts in our commercial greenhouse, which makes it much easier planning and figuring out how much to grow for retail sales. Seeding will begin the first of March and I can hardly wait! I love everything about seed starting and spending time in the greenhouse is such a pleasant place to be! We look forward to another year of growing and keeping positive that this will be an injury free year!