What's Happening on the Farm?
You can find current information about our summer workshops, events, current and future happenings on this page, so check back frequently or visit us on our Greentree Naturals Facebook page for updates. If you want to visit the farm, please read the section About Visiting the Farm on the home page.
Click here to jump to the Organic Gardening Workshop Series information
Farm Gift Certificates Available
The perfect gift: Looking for a sustainable gift to give? Greentree Naturals Gift Certificates are the perfect gift for gardeners and non-gardeners alike. Any time of the year is a good time to give friends and loved ones a Greentree Naturals Gift Certificate. Gift certificates are available in any denomination for our certified organic garden plants, vegetables, garlic, farm goods, workshops or on-farm events offered from the farm. Instead of the typical "stuff," give that hard-to-buy-for friend or family member a fun, memorable experience of an educational gift certificate.  Greentree Naturals offers many engaging and enriching classes throughout the growing season that cover all aspects of organic gardening and sustainable agriculture.
Gift certificates can be redeemed direct from the farm or at our booth at the local Saturday Farmers Market. Purchase gift certificates by emailing info@greentreenaturals.com for details of how to purchase using our PayPal account.
Thursdays On the Farm / On-Farm Stand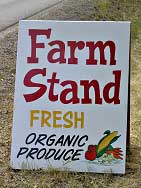 Opening Day for the Greentree Naturals Farm Stand is Thursday, July 12. Open Thursdays from 3PM to 5:30PM. We have developed a "Fresh from the Farm" email list to keep our customers informed of what we will have available every week at the Farm Stand. If you would like to be informed of what we will have to sell and be notified of when we open, get on this "Fresh from the Farm" mailing list, let me know!
The main purpose of opening up the Farm Stand was to provide an opportunity for our local community and regular farmer's market customers to be able to come to the farm and get to walk through our gardens to see where the food you buy from us is being grown. During the growing season, Thursday will be the day that Greentree Naturals is open to the public for self-guided garden walks and an opportunity to shop with us at the On-Farm Stand between 3PM and 5:30PM. Please review the information about visiting the farm before you come out and please leave your dogs at home.
We are a working, active, productive farm dedicated to bringing wholesome organic food to your table. We're proud to tell you that over 25 years after its founding, Greentree Naturals is still rooted in to the organic values we've always believed in. Greentree Naturals brings fresh, certified organic produce from our fields to your table during the peak of the harvest season. We always strive to offer the best in new selections of certified organic vegetables, garlic, herbs and garden plants. We also have organic jams and sometimes farm fresh eggs. We have added a few new species of native plants and grasses to our plant inventory this year as well. Sign up for our "Fresh from the Farm" email list so we can keep you informed of what we will have available every week. Know that we never share our email list with anyone else. Hope to see you this summer!
Summer 2018 CSA Program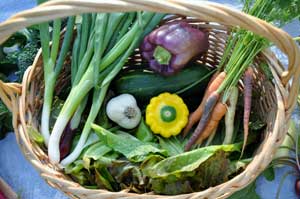 We have been working with the CSA model on our farm since 1995 and have one of the oldest successful CSA's in our region. Having a CSA has helped us be more self-sufficient and sustainable as a small acreage organic farm.
Over the last twenty years, Community Supported Agriculture (CSA) has become a popular way for consumers to buy local, seasonal food directly from your local farmer. Basically, we offer a "share" of our gardens, which is one way for us to know what our market is going to be like before the field season begins. As a consumer, the advantages of becoming a CSA member are significant: you get to eat ultra-fresh, certified organic food with all the flavor and vitamin benefits, you will learn to eat new vegetables and new ways of cooking, and you will develop a relationship with the farmer who grows your food and learn more about how food is grown. The closer to the food source, the higher the nutritional benefit.
Most of our customers have been with us for many years, which tells me that we are doing something right (See the CSA page for comments from our members.) We offer a limited number of shares, so if you are interested in signing up for our 2018 CSA season, let us know so we can get you on the mailing list! We encourage early commitments so we know how much to grow for the CSA, however, we do offer a month-to-month option for shares as well. When you support a CSA farm, you are supporting agricultural diversity and a local community farm. For more details and pricing, please visit the CSA page. Contact us with any questions you may have or to receive a CSA application by emailing diane@greentreenaturals.com .
ON-FARM WORKSHOPS - SUMMER 2018
Greentree Naturals 2017 Organic Gardening Workshops
Greentree Naturals is excited to announce another amazing summer of on-farm workshops! Whether you are a seasoned gardener or this is the first time you've broken ground, cultivate your skills throughout the growing season with us on the farm! Learn the basics of organic gardening, including planning the garden, seed starting, transplanting techniques, soil preparation, testing soil, composting, managing for beneficial insects, natural pest control, weed management, preserving the harvest, and more. You will learn useful information about sustainable and environmentally friendly gardening in north Idaho. Diane Green has been providing on-farm workshops since 1995. We can help you grow a successful garden!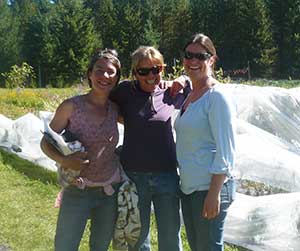 This workshop series is scheduled on Monday from 10:00 a.m. to 12:30 p.m. beginning May 7 through August 7. Sessions will cover all aspects of organic production and management practices that restore, maintain and enhance ecological harmony in a rural farm and garden setting. Cost is $25 per workshop, or sign up for entire workshop series for 10% discount. We are aware that this timeline may be prohibitive for people with regular work schedules, however, because we are a working farm, Monday is the only day that we can work this into our calendar of events. Plan ahead with your employer for time off! These workshops take place outside on the deck and in our gardens, rain or shine. Please be prepared for inclement weather. Class size is limited. All workshops require pre-registration.
May 7 – Seed Starting: Gain a solid understanding of basic seed biology and the basics of planting seeds and how to create the best environment for seedlings to thrive; learn what crops should be direct sown and why; review optimal environmental considerations for seed germination; preparation of the seed bed; seeding methods, seed depth and seedling care.
May 21 — Planning Your Organic Garden: We will discuss preparing the soil for planting; direct seeding and transplanting; companion planting; planting for beneficial insect habitat, intercropping and crop rotation; planning for seed saving; record keeping, garden maps and succession planting are all a part of planning for a successful harvest. If you can't make this workshop, check out our "Planning the Garden Workshop on CD" available for sale on our website!
June 4 — Fertilizing Organically: Fertile soil is the first step in increasing yields. When it comes to adding nutrients to your garden soil, there are many organic options. Cultural practices such as cover cropping, and composting will ensure balanced nutrition of your soil in the long run, and organic amendments will help your garden thrive. Learn about foliar feeding, which plants are heavy-feeders, and which ones are not, and how to take a soil sample.
June 18— Natural Weed Control: On any organic garden or farm, particularly newly cultivated ground, it is likely that weed control commands a major part of the gardeners' time over the course of the season. We will look at using different types of organic mulches and weed prevention strategies used to control unwanted plants.
July 9 — Natural Pest Control: In a diverse ecosystem pest populations are regulated naturally. Learn to assess pro-active control practices that minimize harm to pollinators & beneficial insects; learn about insect identification, natural pest formulas, and plant-pest relationships for natural pest control. Learn how to make your own insect traps and natural insect sprays.
July 23 — Harvesting the Bounty: After putting a lot of time & effort into successfully growing your crops, you want to make sure you are harvesting at the correct time for peak flavor & good storage. Discover techniques for harvesting optimal yields for vegetables, herbs, cut flowers and best practices for post-harvest handling to assure food safety guidelines are met.
Aug 6 — Seed Saving: You can save vegetable, herb, and flower seeds from your garden to plant next year. Seed saving involves selecting suitable plants from which to save seed, harvesting seeds at the right time, and storing them properly over the winter. We will also discuss hand pollination, seed cleaning, and seed storage.
To find out more and reserve your spot, email diane@greentreenaturals.com or call (208) 263-8957. All workshops are at Greentree Naturals Certified Organic Farm outside of Sandpoint, Idaho. Individual workshops are $25.00. Sign up for all seven workshops before May 1 and prepay to receive a 10% discount or pick and choose for $25 per workshop. All workshops include comprehensive written handout materials. Class size is limited. All workshops require pre-registration.
Quotes from 2014 workshop participants:
"I have been gardening for over 30 years with some success and knowledge. For some reason, after this workshop, I got what was needed for some real success. My garden has never done this well and it is due to the great information that Diane gave us. It was so pleasant looking over gardens and her depth of knowledge is a real gift to Bonner County." 
----Eli Sevenich
"I had been gardening for years and had read lots of gardening books and websites. And my garden had always produced well for me. Or so I thought . . . After taking Diane's course, my plants grew 3-4 times as large and my yields were off the charts. I was doing so many things wrong, but because my garden was growing and producing, I had no idea. I never would have known it, had I not taken Diane's classes. Who would have known that just a few simple changes could produce such dramatic results?
The great thing about Diane's classes is that you get to see the information in action each week in her beautiful garden. You listen to Diane, read the information on her handouts and then you get to walk around her greenhouse and garden to see the information first hand. And the best part is that you get to go home, try it yourself and see the results in your own garden! Then the next week you come back and can ask all the questions you encountered during the week. It's like having a personal gardening mentor for a season."
----Tina Sparks
We wish you a bountiful gardening season!
Season Extension Workshop – Date to be announced (likely in April or early May)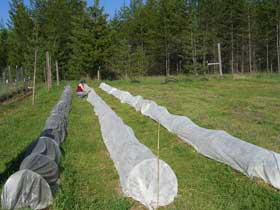 Spring and fall season extension techniques work primarily by providing frost protection. In addition, most early and late-season vegetables benefit from the increased soil warmth and protection from wind and pests that many protectors offer. A wide range of techniques are available, from simply planting heat-loving crops in a particularly warm and sheltered spot, to complex greenhouse culture. There are numerous non-greenhouse options suitable for home and market gardeners — primarily cultural practices, plastic mulches, and row covers.
We will review ways of extending the growing season using an assortment of different kinds of materials for extending the growing season and include review of cloches, cold frames, floating row covers, slitted row covers, and hoop houses. Greentree Naturals has been reviewing a wide variety of season extension methods over the years and will share their well tested methods with you.
Date to be announced! We like to have this workshop as early in the spring as weather allows, but always have to wait for the snow to melt away and the earth to be ready for us to be in the fields to begin the season. My goal is to host this workshop on a weekend in Late April or early May. Come prepared for any kind of weather as due to the busy spring planting schedule on the farm, we only have one day that we can have this workshop, so it will happen rain or shine! Class size is limited! We will only host this workshop if we have enough people signed up for it. Please plan and call ahead to reserve a space! Cost is $25. Call 263-8957 or email info@greentreenaturals.com
Autumn GROWING GREAT GARLIC WORKSHOP (date to be announced)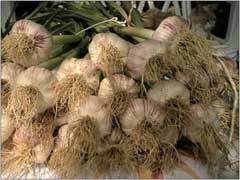 Fall is the ideal time to start your garlic for a summer harvest next year. Join Diane & Thom in exploring the best ways to maximize your harvest, and grow excellent garlic. We will only host this workshop if we have enough people signed up for it. Please plan and call ahead to reserve a space! Cost is $25. Call 263-8957 or email info@greentreenaturals.com
Greentree Naturals Pumpkin Project

The Pumpkin Project is a wonderful opportunity to connect school children with farming and get them to think about where their food comes from. What better way to plan for the future than to share a farming project with the local school children? We need to cultivate our future farmers and one way to encourage this is to start with the kindergartners and first graders, although this project would be a success with other grades as well.
We typically start planning the Pumpkin Project with a local kindergartner or first grade teacher in March or April so they can work us into the lesson plan to include a biology lesson that includes how a pumpkin grows. We are willing to work with two or three classrooms each year to grow pumpkins for the students. We will provide the pots, soil, labels and pumpkin seeds, plus come and visit the classroom to assist with the planting of the pumpkin seeds. Each class will grow their pumpkins for 3-4 weeks, and then have a field trip to Greentree Naturals to transplant their pumpkins onto the farm. Each pumpkin plant will have a tag or stake with the child's name on it.
We will grow the pumpkins through the summer; in the fall, after the frost, the children will return to harvest their pumpkin. Cost is $5 per child. To schedule a pumpkin project with us, contact us at your earliest convenience.