Greentree Naturals Newsletter Winter 2014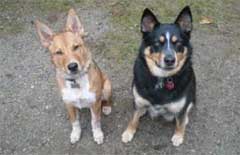 Henry and Annie
I have certainly been lacking with my newsletter updates. Time is a curious thing. I find that the older I get, the more likely I am to lose track of time. One thing for sure, life is full and keeps us occupied no matter what is happening. Attempting to provide a year-end review is the most that I can offer at this point.
Diane developed an on-line farmer mentor training program for the Iowa Women's Farm Network last winter and facilitated a training session in Iowa right from our living room. I have my brother Carl to thank for the computer world that he made for us here on the farm as we were told our rural location could never get high-speed. It is certainly more sustainable to teach from here—no travel, fossil fuels used, bad road food, or stress from driving for me or my students. While traveling was a huge part of my life for many years, I am content to spend as much time on the farm as possible. I am teaching another on-line course this winter with a team of folks from University of Idaho that covers different aspects of farming for profit. I love teaching and am happy to do whatever I can to help empower the next generation of farmers.
Thom worked as a contract tree planting inspector for Potlatch this spring covering 3,127 acres and over1.2million trees in the ground. This work is only three hours south of us, which is a heck of a lot better than the years that he would travel to the south coast of Oregon for work. Too far away! He returned in late summer for twelve days to review the seedling survival on 1,779 acres. This is the same kind of work that I did for 18 years with the USFS, so we have common ground to share. We are always grateful for the off-farm income.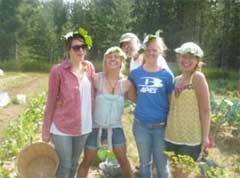 We adopted a new pooch from the local animal shelter last fall as a companion for our four year old heeler Annie. Henry is a bit of a rambunctious boy and in a playful jaunt managed to clip me running and tore cartilage and the MCL in my right knee. "Our new dog" immediately became "Thom's fracking dog." Interesting how an injury can change your perspective on appreciation of the simplest things and a reminder of how much we take for granted in our lives. While being crippled by the dog was challenging, restrictive and painful for most of the growing season, it taught me to look at life differently. Slow and steady wins the race…and my affinity for turtle power continues. Charles Dickens said "Do all the good you can, and make as little fuss about it as possible."
A quote from Wendell Berry is appropriate here: "Why do farmers farm, given their economic adversities on top of the many frustrations & difficulties normal to farming? And always the answer is: Love. They must do it for love." Indeed, we love what we do & want to continue as long as we are physically able. We live simply and clearly acknowledge the difference between needs and wants.
Four apprentices joined us for the summer. Two lived on the farm in our camp trailers, and two lived off farm. Thank you Hillary, Laura, Caitlin, and Justine! We also had several amazing volunteers come to help out with harvest and garden clean up when we most needed help. There are lots of photos of the summer season on our Facebook page if you should want to see what kind of things were going on here.
It was a good summer to minimize farm events since I was injured. Our organic gardening workshop series continues and our on-going project of mentoring with folks from the homeless shelter's community garden is well received. "Give a man a fish, he eats for a day. Teach a man to fish, he eats for a lifetime." We donated plants, gathered donations of tools, seeds, hoses, compost and offer annual scholarships to our on-farm workshops. I volunteer to teach workshops for the community every year and feel it is important to give back since they support us.
We have a few new and exciting research projects happening for 2014: We just put up a new 24'x48' high tunnel as a part of another research project we are doing with University of Idaho. We will conduct crop field trials and evaluate season extension techniques for the next 2 years comparing yields in the high tunnel to yields in the hoop houses. We've grown in hoop houses for over 20 years, so this will be interesting to see what the difference is between the two different structures.
Diane is working as an advisor with graduate and undergrad students from Washington State University for a 3 year research project on Biodiversity and Natural Pest Suppression as a part of the USDA Organic Transitions program. We LOVE on-farm research projects! We will host several summer farm tours /field days over the next three years for both of these research projects.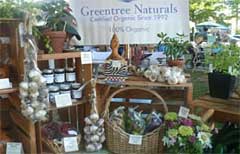 We celebrated our 23rd year of selling at the Farmers Market at Sandpoint by establishing a new vendor spot for where we set up. It took a bit to get used to being in a different space after so many years, but we needed to get away from the bandstand as the music was just too loud to deal with since we were right in front of the staging area. Remember, life isn't about waiting for the storm to pass, but learning to dance in the rain! That said, the weather is changing...we might as well adapt to whatever comes along. This may be time to celebrate change because "normal" just isn't normal anymore; that's why they call it climate change.