Winter 2007 Newsletter
Living in the country has its downfalls when it comes to predators and pets. We have two and a half acres of garden fenced, which is protected area that the coyotes can not access. Unfortunately, the cats do not spend all of their time in the garden area, which is why we have lost a few of our furry friends to these devious culprits of the county. I fully understand the delicate balance that Mother Nature provides within the animal kingdom. Coyotes gotta eat too. I just wish they would stick to eating mice and squirrels instead of our cats.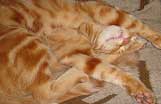 Two years ago, Rufus came to live with us as a kitten rescued from the local pet store. Being a household without children puts us in that category of 'pet parents'; this means that we indulge our animals in as many comforts as we can provide for them. In turn, they provide us with plenty of entertainment and cuddles (when they feel inclined). Rufus is officially Thom's cat since the coyotes took his last two cats from us.

We also adopted a kitten last summer we have named Betty. She stays close to Rufus and for the wintertime, they manage to get into some sort of trouble most every day. They don't want to go outside because of the snow, and they tend to get bored staying in the house. Then we have Rusty who is king Manx and seven years old, and Ruby who is three. Love those kitties!
OK, so this is what happens in wintertime! We focus on things other than the gardens, and getting caught up with all those things that never seem to get done in the summertime. Needless to say, the 'to do' list is forever getting longer, and the amount of time to get it all done disappears with the longer days and getting closer to springtime. We will just continue with our motto 'do as much as you can, and then do some more' and see what happens.
We didn't get the greenhouse reconstructed as we had hoped this fall. Thom ended up working as a tree planting inspector this fall on a six week contract that finished about the time the snow started falling. Not much time to make the project happen. I am looking into identifying funding to make the greenhouse a sustainable project model for others to learn from. Let's face it; the typical greenhouse is not exactly what you could call economical or sustainable when using electricity, propane or gas to heat them with. There are alternatives out there and I intend to find them! We'll keep you posted on that progress. For now, we are patient and know that it will happen when the funding comes together. We have over a foot of snow on the ground to keep us enduring with the greenhouse project for now.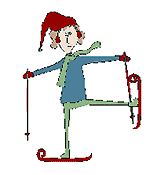 The great thing about having so much snow on the ground is I get to use my new snow shoes that Thom got for me from last Christmas. We never had enough snow to use them last year, so now I am getting out there as much as I can. We have a 640 acre parcel of land adjacent to us that is private, roadless wildlife reserve. This is fantastic for wandering around in the wintertime. There are lots of moose, elk and deer with an occasional lynx, bobcat and mountain lion to keep it interesting. We rarely make it out there to explore during the summer because we are too busy on the farm and the mosquitoes are too voracious to endure in the dark woods.
I just sat down with my 2007 calendar and lined out events for the next six months. This is always a remarkable process for me to plan so far ahead. I am always telling our apprentices that you can't get where you are going if you don't have a road map on how to get there. Consequently, our roadmap is developed by making plans and setting dates for our summer events and workshops as well as my teaching workshops during the winter months. We will host the second season of our Delightfully Decadent Sunday Afternoon Tea, complete with local Celtic music and organic treats from Chef Sora. We will also host the second season of a nature journaling workshop featuring my friend Marilyn McIntyre, a local water color artist. Details coming to our website soon!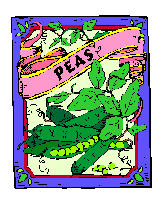 Along with our summer activities, we will be involved with a project with the Organic Seed Alliance (www.seedalliance.org) doing seed trials here at Greentree Naturals for the state of Idaho. This project is a partnership with USDA Risk Management Agency, taking place in Alaska, Washington, Oregon and Idaho. We are the only Idaho farm participating. A part of this project will be doing a one day workshop to teach other farmers how to do seed trials on their farms. We will likely do some sort of luncheon featuring our local foods prepared by Chef Sora as well. I suspect this will be happening some time in June. We have many details to work out.
I just completed developing what I am calling a Liability Handbook for small farms in Idaho and Washington. I am contracting work with Rural Roots (www.ruralroots.org) and University of Idaho to not only create this handbook, but teach a couple of workshops on the same subject. I will be in Caldwell and Moscow, Idaho teaching 'Everything you ever wanted to know about farm liability, but were afraid to ask' with a great group of professionals in mid-January and early February. Later in the season, in March, I will be teaching a couple of direct marketing workshops in Pocatello and Post Falls, Idaho. I love teaching and sharing stories with other farmers. There are so many incredible farmers out there and I consider myself very fortunate to get to rub elbows with so many salt of the earth people.
In February, I will be participating in a retreat at Quillisascut Farm School of Domestic Arts in Rice, Washington (www.quillisascutcheese.com). The focus of this three day event is women in agriculture. Lora Lee Misterly came up with this idea of having a retreat at her farm and asked if I would be willing to help her organize and facilitate this affair. I will share details in the spring newsletter. Several of our apprentices from past years will be participating.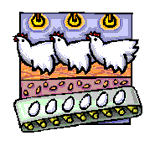 The chickens continue to lay eggs through the winter months and surprisingly, we are getting between 25-30 eggs a day right now. When spring time comes, we will order new baby chicks, and start a new laying flock. We generally only keep them for two years as laying hens because they decline in egg production. We will make some of them into soup stock and the others we will sell to locals who want hens that are already laying eggs. Chickens will lay eggs for many years; they just become less consistent as they get past two years old. I deliver eggs in town to CSA customers once a week and sell them for $3.00 a dozen.
I just mailed a CD with a bunch of Greentree Naturals website updates to Susan Daffron who manages our website for us in trade for a CSA share. There will be lots of new information, photos, newsletters, recipes, workshop and on-farm event dates coming soon. I know that our website can be somewhat boring for some in that we don't change a lot of things often. Be that as it may, it serves its purpose of getting the information out there and helping to inspire other small acreage farmers by our example (we hope). Wishing you all a winter of good health and a prosperous New Year!
~Diane