Greentree Naturals Newsletter Spring Into Summer 2018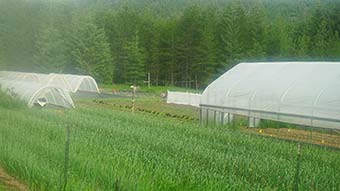 Spring "greening" is well under way as everything is waking up from a long winters rest. There are so many shades of green as the buds pop out on the forest around our house! The cherry tree is in full bloom, and the dandelions are dotting the yard and garden paths with those yellow blossoms providing food for the early bumblebees and pollinators. Gone are the days that dandelions are a bad thing! My lawn doesn't need mowing, we are developing bee habitat! We wait to mow just before the flowers go to seed if we can, and if we don't get around to it in time, the dande crop increases. We have made the observation that when we have something blooming all the time, the bees and other pollinators tend to stick around rather than go searching for food elsewhere. Annual and perennial flowers are scattered throughout our gardens in the field for this purpose, and because its lovely to look at!
The winter set some records for snowfall, and while the mountain tops are still mostly snow covered, it is melting and as it melts, the creeks, rivers and lakes are close to flooding. With all of this moisture and warming weather, the mosquitoes have hatched out and are in full swarm. We have 20 Swallow houses surrounding the gardens on fence posts, and they do a pretty good job of controlling the population in the gardens. We still keep a plethora of assorted insect repellents on hand for workshop guests to use as anywhere out of the garden you tend to get eaten alive! I have a small wooden box that holds organic and inorganic insect repellents for folks to choose from. If mosquitoes would only suck fat instead of blood, it wouldn't be so bad! All of my clothing now has a slight scent of assorted natural oils that mosquitoes supposedly don't like (Lemon Eucalyptus, Cedar Wood, Citronella), and while these things do repel them somewhat, they seem to keep hatching out. We empty all water caches, and do what we can to discourage them, however, adjacent to our property are acres of swamp where the river flooded earlier in the spring.  As soon as things warm up, and dry up, the mosquito population will decline. Meanwhile, I am writing this sitting under a mosquito net in my living room!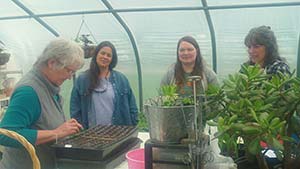 The farming season is in full swing. We've just about gotten everything planted or transplanted and are moving into the weed and mulch portion of the growing season. The goal is to get everything mulched before the hotter summer weather arrives. It makes a considerable difference in plant yields, and the plants thrive when they are mulched during the peak of summer heat. We are half way through our seven week organic gardening workshop series, have hosted two official farm tours, and soon will open up the Farm Stand and start harvesting and making deliveries for our CSA, restaurants, and the local natural foods store. We had 19 kindergartners come out and plant pumpkins for the 19th year of our Pumpkin Project. I went into the class room four weeks before they came to the farm and gave then a planting lesson. In the fall, they will return to harvest their pumpkin as first graders, and will bring the new kindergartner class with them to share in the harvest. We have a new research project that is a two year on-farm collaboration with University of Idaho graduate students studying soils collaborating with the Organic Research Foundation.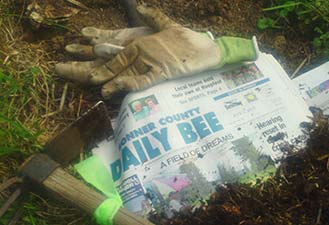 We've had some garden challenges with wire worm infestations nearly wiping out an entire brassica crop (broccoli and cabbage) by eating the roots and killing the seedlings. It is so frustrating to watch seedlings shrivel up and die after investing so much time and money into growing them from seed to seedling. It is humbling to have crop failures and reminds us of the importance of diversity. There is always more to learn, and our experiment with no-till in this particular location in the field was a lesson learned. The primary damage was to our seed crops, so this was a big disappointment.  We've been trying out no-till options the last couple of years, using layers of newspaper with compost on top of it as a mulch to plant into. I like the idea of laying down yesterday's news and turning it into compost for the plants to grow. I get to peruse the past years worth of newsprint with local story headlines as I layer sections of planting beds. We still till in parts of the gardens and will continue to explore different options.
A new endeavor for us this year is growing for a seed crops and joining Snake River Seed Co-op out of Boise, ID. We have been avid seed savers forever, but this is quite different growing larger quantities of seeds to sell. For this purpose, we need to have a minimum of 50 plants per variety to provide seed diversity. We usually collect seed from 5-7 plants for ourselves, so this includes a learning curve. The wire worm infestation was in the brassica crops that were intended for the seed co-op. I always grow extra plants just in case something like this happens, so we do have some replacements, but are growing them up into larger pots until we get this pest issue under control. We have a contract to grow broccoli, cabbage, Swiss Chard, Kale, peppers, tomatoes and maybe some flowers. I'm excited about this new endeavor and will persevere through these challenges! Time will tell.
I have often reflected upon the fact that when you plant a seed into soil, you are also planting hope. Each seed harbors potential life. And, because life is unpredictable at times, anything can happen between the sowing of the seed and the harvest. That is where the hope comes in. As farmers and gardeners, we know better than most how much hope is contained in one small seed. Why else would we start anew each season, but for the hope that our seeds, soil, and sweat will grant us an even better year than the last?
Wherever you are in your season – sowing, planting, tending, or harvesting – I encourage you to hold onto that powerful element of hope as we hurdle towards the busiest growing months of the year. May it sustain you when you need it most, and bring you joy to complement your hard work.
With hope and well wishes,
Diane