Greentree Naturals Newsletter Spring Into Summer 2019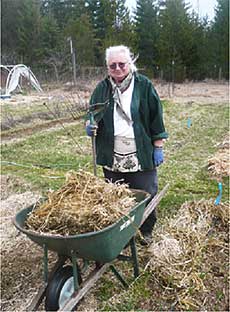 This is the time of year that it may not be uncommon to see a pound of bean seed on the kitchen counter alongside a small bag of inoculants (for aiding legume germination) sitting next to a to do list, plant tags and a pumpkin from last autumn harvest. It's the time of the "greening" when buds are bursting and the grass is growing almost fast enough to see. The dandelions have popped into a golden carpet in parts of the yard, which is how we determine that it's time to plant potatoes. As soon as we saw the first golden bloom, Thom started preparing potato beds for planting. We've adapted many of our seasonal farming/growing cycles by observing nature and have learned how to move through the changing seasons.
Yesterday, the sun was hot enough to give me my first red neck of the season. Today, it is raining/sleeting and there is a fire going in the wood stove. The weather is consistently inconsistent; some of it is simply because of where we live, but much of it is climate change. We work outside a part of every day, so we are paying attention to what the weather is doing. It's hotter for longer periods of time, it's colder for longer periods of time - comparing both swings of temperatures after living and farming here for 32 years. We've had years that we've harvested over a ton of tomatoes off of 75 plants; last year we barely yielded 500 pounds of ripe tomatoes. We continue to plan for the coldest, hottest, wettest, driest growing season in recorded history; this way, we are prepared for whatever comes. Farming and gardening in this part of the country can be challenging. Some years we are protecting seedlings from frost, while at the same time, shading lettuce to keep it cooler so it won't bolt. The temps can have a swing of 30+ degrees from day to night, which is tough on tender seedlings. We persevere because we love what we do. We persevere because we must.
This will be my first year of not selling at the local farmers market in 28 years. It feels good to move into this new chapter for Greentree Naturals. I was wondering how I would spend my summer Saturdays and easily scheduled my on-farm workshops for every other Saturday morning instead. People have always commented that they wished these were on a Saturday instead of a Monday, so I hope to be able to encourage more organic gardeners in our community. So many of my workshop participants are people who have had successful gardens in California, only to find that everything that worked there, doesn't work here.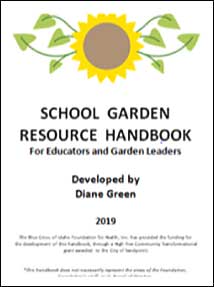 This spring I developed a School Garden Resource Handbook that will be shared with the 13 school and community gardens here in Sandpoint. Remarkable that every school has a garden here! My goal was to provide some specific activities for student participants to make it easier for the garden leaders to meet their accomplishments. There are so many incredible resources out there and fortunately, most of those great thinkers who have had successful school gardens are willing to share their successes and failures. This project may be a precursor to expanding the book and developing a next step training for garden leaders and volunteers. I enjoy developing how-to guides as it provides a medium for sharing information with a broader outreach of people.

We anxiously watched the perennial seed crops that we were hoping had survived the single digits from wintertime. It's the 13th of May and the cabbage, kale, and chard are not showing any sign of life so we have had to let go of those varieties for seed crops. We wanted to try it out, but can see that we will do best to stick to annual seed crops for Snake River Seed Company. We were able to pull our beets out of the ground and store them in the walk-in cooler, so will get seed from those. We have snow peas planted for a seed crop that are looking good. We call them "summer snow peas" because the seed has adapted to the early heat waves and now continues blooming into July, which is unheard of for peas. We will trial a Romanian sweet pepper and see if it will mature for seed collection and will explore other varieties.

As we move into the busy growing season, my new motto is "Persistence, not Perfection." I have come to an age that I am OK with small improvements, a little bit at a time. Perfection takes time, so why not allow that time to pass and continue to do the best that we can each and every day? Accepting that there are plenty of things here are the farm are not perfect, and that's alright. We will keep doing what we do and are happy to be here! Someone stopped by to pick up plants the other day and as they looked around they commented "you guys aren't slowing down at all are you?" Granted, at our ages (67 and 70) the amount of work that we do can seem a bit much, but truly, we are slowing down simply in the fact that everything takes longer, we do it slower, and now we include a short nap with each day.

Here's wishing you a bountiful garden season ahead! And if you aren't gardening, I hope you will support your local farmers by going to their farm stand, or the local farmers market. You don't have to grow a garden to eat fresh!

Diane