Greentree Naturals Newsletter - Spring 2006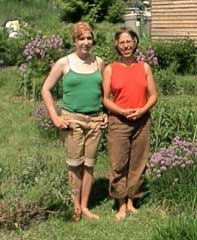 One of the lovely things about living in northern Idaho is how quickly the land changes colors. We go from winter browns to every shade of green you can imagine. Springtime brings gifts of wildlife babies wandering around the fields near the gardens. Just this morning, while sipping my first cup of tea, a mama moose came trotting out of the woods with a new born baby following close by. What a joyful way to start the day! I was thankful that she decided to go around the garden fence instead of through it.
A couple of weeks ago, a cinnamon colored black bear (yes, they come in other colors!) made a visit to the lower chicken coop to consider a morning meal. Fortunately, I was doing the dishes and had a good view of his arrival and was able to alert the sleeping dogs to chase it away before any damage was done.
We now have two chicken coops and yards, one next to the garden where the new orchard is planted, and the other behind the house next to the goats. With fifty laying hens, we just decided that they needed more space. This has worked out well for keeping the orchard clean and bug free and gives each group of 25 birds a quarter acre to scratch and fluff in the dirt and eat bugs. In the early days of raising chickens, we let them run about the yard and they seem to prefer the planted flower beds to anything else; hence, their fenced yards.
We have two young women apprenticing with us this summer. Emily came from working at the White Earth Indian Reservation in Minnesota. Christine is earning six credits from University of Idaho by writing a couple of papers about her time here this summer.
This is our ninth year of having official apprentices on the farm. By 'official', I mean teaching with an outlined curriculum, not just someone stopping by to volunteer for a day or two. We would consider having more than two if we had proper housing for them. As it is, we have a funky old trailer that is really more glorified camping than anything.
You may have noticed on the home page that we decided not to have the Sunday Brunch on the Farm this year. This decision came about for a number of reasons, mostly because we were only giving ourselves one day off a month and that just isn"t a healthy thing to do. Because we love sharing our farm life with others, we have shifted gears and are going to play around with what we are calling a 'Delightfully Decadent Sunday Afternoon Tea' as a once a month event. As always, Sunday is really the only day that we have that we can do events here, as the rest of farm life is full of weeding, harvesting, packaging, deliveries and farmers markets.
For more information about the Teas, go to the "What"s happening on the farm" page of our website. We are only having two of these events this summer, but are also planning on hosting a Nature Journaling workshop with local artist extraordinaire, Marilyn McIntyre. Always some sort of extracurricular activity going on at Greentree to share the beauty and promote local organic food!
This spring, one of the big projects was dismantling and moving the 30 X 96 foot greenhouse that we purchased with contributions from the Kampe Foundation. We are so excited about this and know that it will help us with many aspects of expanding and improving our business. I am hoping to identify some alternative methods of heating this thing with something that is a little more earth friendly than propane or natural gas. I have been reading up on solar and thermal heating, and if any of you have any suggestions, these would be greatly appreciated! We plan on getting the greenhouse set up this fall so we can utilize it for early spring crops and seedling production.
Of course, all of this is going to take funds that are never easy for us to come by. Farming isn"t exactly the most lucrative means of self employment, but definitely the most satisfying for personal satisfaction. We will have to hook up a separate electric system which starts at $2,300 just to get the power turned on. We are thinking about selling our old 1948 Ford 8N tractor to pay for the electric installation. We don"t really use it anymore because of the way our fields are set up for planting.
Then, we have to activate an old well that hopefully will not be too grand of an endeavor; dig water lines, electric lines, hook up the electricity to the greenhouse, oh yea, and reassemble the greenhouse with new double wall plastic (another $800). I figure that as with most projects, you take whatever you think it is going to cost and double it to be realistic at what the end product will tally for dollars and labor spent. We have to sell a LOT of heads of lettuce to get this thing functional!
I hope to identify some funding sources for doing a research project with the greenhouse that can share as an educational opportunity for others. Managing a certified organic greenhouse will have its challenges for pest control for sure, which may be a worthy juncture for considering developing a habitat for beneficial insects there. I will keep you posted in future newsletters!
Thom was gone most of April planting trees around Harvard, Idaho. He planted 23,000 trees in four weeks, which is pretty remarkable for someone that is 56 years old! He just loves planting trees and working out there in the woods!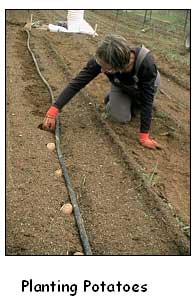 I spent a good deal of the first months of 2006 traveling to Boise and throughout the Inland Northwest conducting Farmer Focus Sessions that relate to the Cultivating Success Program at the University of Idaho. Much of the work that I do in the wintertime is under contract with Rural Roots for UI projects. These Farmer Focus sessions were such fun because I had the opportunity to travel to rural locations and meet with small acreage farmers, my favorite kind of people!
The gist of this project is to gather information about apprenticeships on farms to determine alternatives to the traditional internships that are five or six days a week as a full time job. We have found that the majority of the students taking the Cultivating Success course are not the traditional types of student. The ages attending these classes are 35 to 55 years old, and can not take on a full time apprenticeship. The idea behind these Farmer Focus sessions is to create a new and different kind of model or opportunity for people to get the hands-on learning that is so helpful when farming, and do it in a different way. Still work to be done with this, but we are making progress!
We just about have the entire garden planted, finally. A few more things to get in, but mostly done. Our CSA"s started on June 7th with 18 families sharing the harvest from our gardens. We will add another three families the first of July when we have more produce available. I still haven"t sold at the farmers market yet this season. Every week I say "maybe this weekend..." and then the weekend comes and goes and I still haven"t been there. After 16 years of being a regular there, I suspect that sooner or later, I will find my way back. For now, it is better to invest my time in getting the crops in the ground.
That"s about wraps it up for what"s happening this spring. I wish you all bountiful gardens and strong backs this summer!
Happy gardening!
~Diane