Greentree Naturals Newsletter Fall 2015
The Autumnal Equinox is upon us. It is last warm days of summer, and fall's first frost; summer and fall meet on September 23. The days get shorter, the temperatures start to cool down to a nip in the air. It was such a hot and dry summer season that we are happy to see it cool down. I don't remember it ever being so hot for an extended period of time. Everything we do for season extension is about increasing the air temperature around the plants. This year, we had to reverse some of our season extension to include shade cloth on hoop houses and the high tunnel. Climate change is quite evident, which makes adapting to whatever comes essential for any one growing crops or food. We can prepare for whatever comes, and plan on the hottest, driest, wettest, coldest summer/winter in recorded history. This year, we have ripe watermelons for the first time ever and they are ripe the same time the pumpkins are turning orange! Not the norm at all, but the "norm" is no longer. Thinking of carving a watermelon and a pumpkin for Halloween!
As we move into cooler days, we are filled with gratitude for having survived the heat mostly unscathed. With 90°+ temperatures pretty much every day since the first of June, we adapted by going out to work in the fields early in the day, then siesta during the hottest hours, only to return as the sun moved closer to the horizon. I found myself frequently "inspecting" produce in our new walk in cooler to cool down throughout the day. I contemplated setting up a hammock in there, but that fantasy never manifested.
Winding down to the end of the growing season, we find ourselves in great need of some time to do nothing. I've heard that some people actually take vacations, but cannot say that we have been so kind to ourselves to allow for such decadence. Last year, at the end of the farming season, we talked about taking a trip to the west coast to walk along the beach and play in the ocean tides. If we could figure out a way to get there without having to endure four and a half days of driving to get there and back, we'd go in a heartbeat. That said, we'd still love an ocean fix as there is no place else that offers the same kind of rejuvenation as dancing with the tides.
We now realize that taking time to do nothing is important, and something we rarely allow for ourselves. Last fall, we made the brilliant decision to go to Hot Springs, Montana, a three hour drive away, and spend an entire week soaking, relaxing, and doing NOTHING. Zero days as they refer to it on the Pacific Crest Trail. I like the idea of it and intend to return to the hot springs as soon as we have battened down the hatches on the farm. Zero days sounds like a fine idea.
By the end of September, the frost arrives to silence the growing season. The Canadian geese are flying in "V" formation to the southlands, honking as they fly overhead, which is always a signal that it's time to plant garlic and get ready for the cold season. Of course, there is much more that we will have to do than plant garlic - clean up all of the gardens, mow the paths and the lawn one last time, get the plastic off all of the hoop houses and the high tunnel, harvest winter squash and anything that is left for food, and the list goes on, and on. Firewood is here ready to be split and stacked, and Thom has an inkling to build a new woodshed after 28 years of covering the wood with tarps; what a concept. The goal is to make our lives easier, and we are doing just that.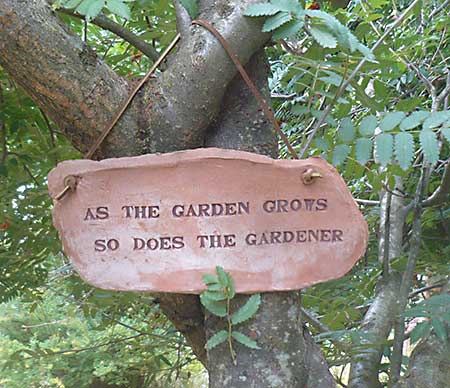 As the garden grows so does the gardener
Thom has been busy designing and building a Subterranean Heating and Cooling system for the big greenhouse. This is a huge undertaking and we are well on our way to taking the next steps towards the completion of a sustainable greenhouse system. This project began years ago and is finally coming to fruition. We are pretty stoked about this project, and if it actually works the way we hope it will, we will put together a handbook with instructions so others can duplicate what we've done here. The goal is to get it covered and minimally functional by winters embrace so he can spend the winter finishing on the inside so it will be ready for production in the spring. Always something going on here, that's for certain! The greenhouse project made possible by the generous support of Diane and Ana Kampe. We are forever grateful for their kindness and generosity. Our lives have been enriched and changed because of their gift.
Good things are happening on the farm. The new processing area and walk-in cooler made life so much easier this summer. By the time we are too old to do this work, we will have things pretty dialed in for the next generation to come in and take over the farm. We are hopeful that we can transition the right someone into the next phase of the farm. Our former apprentice Alicia is trying to figure out how she might step into this role and we are looking into things like share-cropping, leasing the land, or other options along with liability issues, and talking with our insurance agent about possibilities for Alicia to take on part of the farm. Having invested 25 years in the land, we really want it to perpetuate itself and become sustainable as a small farm to educate others about what sustainability truly means.