Greentree Naturals Newsletter Fall Into Winter 2012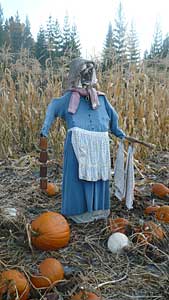 "Scary" the Scarecrow
The autumn season is one of my favorite times of year. There is a great sense of accomplishment having endured another growing season. Once the garden is cleaned up, the garlic is planted, and the tillers are put away, we can finally relax and look forward to a time of rest. We had a pretty mild autumn here this year, and as of this writing, still haven't had much more than a light dusting of snow. There have been years that we already had a foot or so on the ground by Halloween, but not this year. The mild, extended fall weather gave us more opportunity to complete outside projects.
The baby chicks that we got in June have grown into healthy hens who are laying beautiful brown eggs now. Raising chickens always takes quite a bit of time and monetary investment to make it sustainable meaning that an egg doesn't end up costing you at hundred dollars per egg. Thom figured out that we need to sell approximately 200 dozen eggs to break even for with our investments with the chickens to date. We keep a flock of 50 hens and closely track how much it costs us to get from a chick to an egg.
The garden gates are closed for the winter season and the scarecrow "Scary" is officially off duty, though she still stands overlooking the empty pumpkin patch. "Scary" became quite the pumpkin patch attraction over the course of time that we had our U-pick patch open. She had her photo taken with many children and families and has become the official guardian of the pumpkin patch.
Our apprentices were absolutely the cream of the crop this year. I cannot say enough to express how much gratitude we have for these three fine people. Joe came to us from Washington DC, Felicia from Ft. Bragg, California, and Peggy is a nearby local from Usk, Washington. We never really know what kind of people we are going to have coming to apprentice/intern with us each year. We can review applications and check references, but there is no real way of knowing until they come to the farm and are here for awhile. We usually receive about a dozen or more queries about our on-farm apprenticeship program every year. Out of that dozen, we review applicants and go through a selection process that for the most part, has proven to bring the right people here to spend the summer growing season with us. After hearing stories from other farmers, we consider ourselves privileged to have such fine apprentices over these many years that we have been doing this. Several of our past apprentices have stayed in Sandpoint after their time at Greentree Naturals and started up their own small farm right here in our county.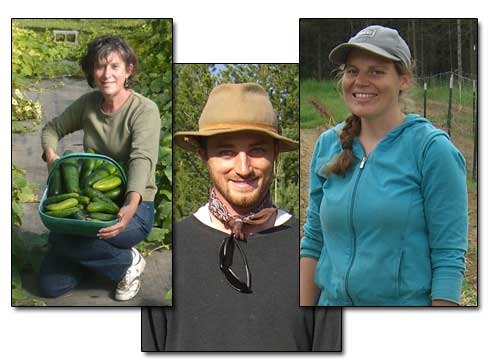 Thom worked inspecting tree planting for about three weeks in the spring for a private timber company out of Bovill, Idaho (about 3 hours south of here). He enjoys still being a part of reforestation projects and working in the woods. He returned to the planting sites in late summer to review survival of the seedlings. I suspect that Thom will persevere with forest related projects for as long as he can. He loves the work and it is a good supplement to our annual income. It really takes the two of us working together to make this small farm operation successful. When one of us has to take off farm work, it can be quite burdensome for the one that has to stay home and keep the farm functioning during the peak of harvest. Fortunately for me, our fabulous apprentices stepped up and helped me with the workload so that it wasn't such a challenging task without Thom home for that amount of time.
We hosted an assortment of on-farm events this summer, including an educational Farm Field Day with Montana State University for demonstrations of ways that organic farmers interface with wildlife. Since we cannot use pesticides or toxins for keeping the wildlife away, we are always exploring alternatives and MSU led the project. The wildlife biologist had some fascinating things to share and a few new methods for dealing with the wildlife. We had a number of farm tours and farm visitors over the summer, including apprentice families coming to have a glimpse of life on a small organic farm.

We had over 300 children here for the U-pick pumpkin patch. We continue to expand the size of the pumpkin patch every year and are pleased to see lots of familiar faces of families who are beginning to make a visit to Greentree Naturals an annual event with the kids. It is so much better for the younger generation to have the opportunity to come and harvest a pumpkin from the farm. The alternative being that the children grow up thinking that pumpkins come out of a bin at the grocery store and never see a plant in a field where it grows in the earth.
A young man named Theron came up with this idea to traverse America to photograph & record everyday people. He traveled 50 states and interviewed 365 people (including Diane) to share on his blog. He came to visit our farm in June and interviewed me for his project. You can view his visit to the farm and listen via this website if you like: http://thiswildidea.com/stories/DIANE_GREEN
Winter Solstice brings more snow and the promise of time to reflect and rest. We work so hard during the growing season that we welcome this time of year to recharge our inner batteries. Thom does odd jobs, mostly related to snow removal, shoveling, driving a tractor pushing snow around. I am working as a consultant for the Iowa Women's Farm Network developing on-line training for farmer mentors, which means a process to teach farmers how to be better mentors for interns, employees or apprentices on the farm. This is satisfying work and if I can provide long distance educational opportunities, all the better. It's a little weird working without the face to face like I am used to, but doing on-line workshops is about as sustainable as can be. No driving or flying to get to a workshop. It meets the needs of farmers who can rarely leave the farm to obtain new information. I am excited about this prospect of being able to reach farmers beyond our home state of Idaho.
It is my wish that each of you have the best of everything in the New Year. Remember to celebrate and enjoy each day.
Be well,
~ Diane
Bits and Pieces:
Our new chickens have just started laying eggs and laid 165 eggs this week.
We also grew our own meat birds and have filled our freezer with local beef grown by a neighbor farmer.
The garlic harvest yielded a bit over 300 pounds this year; not the best year ever, but not the worst either. We planted about 3,000 cloves this fall.
We adopted a new young Red Heeler dog this fall and named him Henry. He keeps our 3 year old Heeler Annie in good company.
Bean harvest lasted about six weeks & yielded 371+ pounds of beans.
We grow six different kinds of summer squash, including heirloom zucchini (both green & yellow) with an end of the summer harvest total of 485 pounds.
Our U-pick Pumpkin Patch had over 300 children visit the farm this fall.
We celebrated our 24th anniversary this summer.
Remember, life isn't about waiting for the storm to pass, but learning to dance in the rain!