Greentree Naturals CSA Winter Squash Recipes
We have grown many kinds of winter squash at Greentree Naturals over the years and now only grow the ones that produce well for us. I am posting recipes for our favorite winter squash which are butternut, Delicata, and Spaghetti. You can certainly substitute other kinds of winter squash like acorn, sweet dumpling, pumpkin and others in most of these recipes.
Choosing and Storing Winter Squash
Winter squash are some of the most delicious and versatile ingredients of the season. Unlike summer squash, these are harvested in autumn when they are hard and ripe, and if allowed to cure on the vine, most varieties can be stored and enjoyed for use through the winter.
When selecting winter squash, choose firm squash with no visible blemishes or soft spots. A ripe squash will have a tan, dry stem and matte exterior, and feel heavy for their size (the heaviness means they are this year's harvest). Store in a cool, dry place and they will keep for many months. Most varieties of winter squash can be baked, roasted, steamed, sautéed, or even cooked in the microwave.
BUTTERNUT SQUASH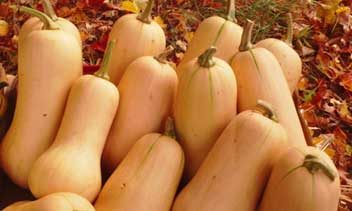 Look for squash that is firm, heavy for its size, and free from cracks and soft spots.. This is the sweetest variety of winter squash. Butternut is extremely versatile. It's perfect for roasting and sautéing, or making a smooth puree or soup. If you want to have them for winter storage, it is always best to buy directly from your local certified organic farmer to assure that they were harvested when they are totally ripe.
How to peel a butternut squash the easy way: Cut off the top and the bottom so it is flat. Stand it on its end and use your sharpest chef's knife to shave off the outer rind. Once peeled, cut the squash in half and scoop out the seeds and pulp with a spoon.
Simple Roasted Butternut
1 butternut squash - peeled, seeded, and cut into 2-inch cubes
2 tablespoons olive oil
2-3 cloves of garlic, minced (more is always better for garlic lovers!)
salt & pepper to taste
Directions
Pre-heat oven to 400° F
Toss butternut squash with olive oil and garlic in a large bowl. Season with salt and pepper. Arrange coated squash on a baking sheet(I often use parchment paper for easy cleanup.)
Roast in the preheated oven until squash is tender and lightly browned, 25-30 minutes.
Grilled Butternut Squash
Grilling butternut in slices creates a crispy shell and seals in all the flavor. You can brush with olive oil or butter with salt and pepper, or just grill it on its own.
1 butternut squash, sliced into 1/2" rounds
1 teaspoon olive oil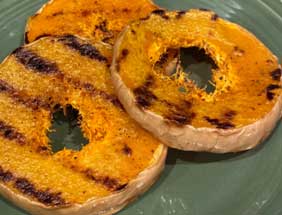 Directions
Preheat grill for medium heat and lightly oil the grate.
Brush both sides of butternut slices with olive oil (salt and pepper if you want)
Cook on the pre-heated grill, flipping as needed until softened and browned, 15-20 minutes
Roasted Butternut Squash Soup with Coconut Milk
This is a creamy, delicious soup with the warm flavors of ginger and curry. The coconut milk is so good and a perfect pairing with butternut! This is a favorite winter soup.
1 medium head of garlic, halved crosswise
1 (3-3.5pound) butternut squash, halved lengthwise and seeded
1 medium onion, quartered
1 medium leek, white portion only, chopped
1 (1 1/2 inch)piece fresh ginger, peeled
4 cups chicken broth, divided
1 cup coconut milk
1 teaspoon curry powder, or more if you like it
1 pinch cayenne pepper
Salt and pepper to taste
Directions
Preheat the oven to 350°. Line a baking sheet with parchment paper or aluminum foil.
Wrap each garlic half in foil and place on the prepared baking sheet. Add squash, cut sides down. Add onion, leek, and ginger.
Roast in the preheated oven until vegetables are golden and squash skin is easily pierced with a fork, 45 minutes -1 hour.
Squeeze out roasted garlic cloves and scoop out squash flesh into a food processor or blender with onion leek, and ginger. Add 2 cups of broth and puree (in batches if necessary) until smooth. Transfer to a soup pot.
Place the pot over medium heat and add remaining broth. Whisk in coconut milk, curry powder, and cayenne pepper. Season with salt and pepper, and cook until heated through, about 15 minutes.
DELICATA SQUASH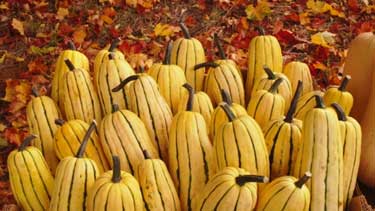 Choose squash that are heavy for their size and free from blemishes and soft spots. Delicata has a creamy flesh with a mild flavor akin to sweet potatoes. It is one of the only winter squash that has an edible skin, so don't worry about peeling it! The skin is flavorful too Cut the squash in half and scoop out the seeds, then you can either bake it as is, or cut it into slices which can be roasted, sautéed, or steamed. Delicata squash is also ideal for stuffing.
How to Prepare Delicata Squash for Roasting
Roasting delicata is truly THE BEST way to prepare it. As mentioned, the skin of the delicata squash is so thin that it doesn't need to be peeled. All you need to do is cut it in half length wise; scoop out the seeds; slice it into half-moons; toss with olive oil, salt and pepper and roast for 25-35 minutes, until is lightly caramelized. Serve as a side dish, or add it to salads, pasta, or grain bowls.
How to Roast Delicata Squash
2 medium delicata squash (about 1+1/2 pound
2 tablespoons olive oil
1 teaspoon kosher salt
1/4 teaspoon black pepper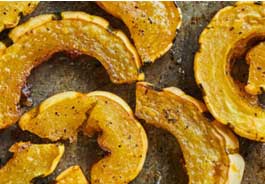 Directions
Pre-heat oven to 425°
Prep the cut delicata. Trim ends off 2 medium delicata squash. Cut in half lengthwise and use a spoon to scoop out the seeds and pulp. Cut into 1/2 inch half moons.
Toss squash with olive oil. Place the squash on a rimmed baking sheet. Drizzle with 2 tablespoons olive oil, sprinkle with 1 teaspoon kosher salt and 1/4 teaspoon black pepper; toss to coat. Arrange the squash in a single layer.
Roast the squash until lightly browned on the bottom, about 10 minutes. Use a thin spatula to flip the squash. Roast until tender and caramelized, 10-15 minutes longer.
Stuffed Delicata Squash
I know this is a lot of information for a recipe, but once you've tried stuffing a delicata once, you are going to want to experiment with other variations, so we're just going to cover the full gambit here!
There are so many ways you can stuff a dilicata squash and all of them are excellent. I like to use pork or chicken sausage (we make our own from locally grown pork and our own chickens), but that doesn't mean that you have to include it if you prefer the vegetarian option. you can keep it simple and just omit the meat, change the chicken stock to vegetable stock and leave everything else the same.
Stuffing Variations
There are other options for varying the stuffing for this recipe. If you aren't a fan of pork, just substitute turkey or chicken sausage instead. I would imagine that beef burger would also be good. To make the stuffing gluten-free, you could use a grain like quinoa or a mix of wild and/or brown rice instead of the bread cubes, rendering the chicken stock to just enough to moisten the recipe - about 1/4 to 1/2 cup.
Baked Stuffed Squash
Once the squash has had its preliminary roast and you've made the stuffing, you just have to marry the two together and give it a final bake.
Ingredients
2 1/2 cups 1/4 in bread cubes
2 medium delicata squash
Olive oil
Salt & pepper
6 ounces mild Italian sausage (raw)
2 tablespoons butter
2 rib celery diced
1/2 medium onion diced
4 ounces mushrooms chopped
1 teaspoon dried thyme
1 cup organic chicken broth
1/3 cup dried cranberries
1 egg beaten
1 tablespoon chopped fresh parsley
Directions
Pre-heat oven to 375°.
Spread the bread cubes out in a single layer on a sheet pan. Toast in the oven for 15 minutes then transfer them to a large bowl.
Slice the delicata squash in half lengthwise and scoop out the seeds. Brush the cut sides of the squash with olive oil and season with salt and pepper. Place the squash, cut side down, on the sheet pan and roast for 25 minutes. *you can toast the bread cubes and roast the squash at the same time, but set the timer and take the bread cubes out in 15. Don't over cook them!
While the squash is roasting, make the stuffing. Heat a large cast iron skillet over medium heat and add a little olive oil. Add the sausage, breaking it into small pieces and brown it . Transfer the browned sausage to the large bowl with the bread cubes.
Melt the butter in the skillet. Add the onions and celery and sauté until onions are translucent(2-3 minutes). Add the diced mushrooms, dried thyme and sauté for another 7-8 minutes until the veggies soften. Add the veggies to the bowl with the sausage and bread cubes, along with the chicken stock and cranberries. Toss to combine all ingredients and to allow the bread cubes to absorb all the liquid. Stir in the beaten egg and fresh parsley.
Remove the squash from the oven and carefully turn it cut side up. Spoon the stuffing in to the cavity of each squash half. Return the pan with the stuffed squash to the oven and bake for 20--25 minutes, until squash is fork tender and stuffing is browned on top.
Serve immediately!
SPAGHETTI SQUASH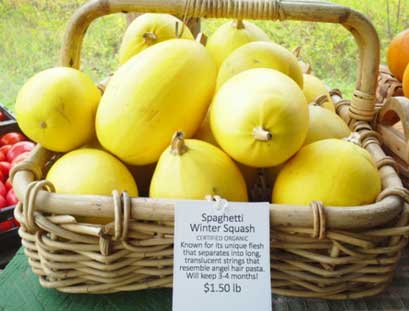 It has a tender, chewy, mild flavor. Unlike other winter squash varieties, it lacks sweetness. Roast or steam it, then scrape out the strands. Delicious topped with marinara, pesto, or mix in with other vegetables, and eat as you would spaghetti. My favorite way is to eat it with just a dollop of butter, salt and pepper.
If chopping the squash in half proves troublesome for you (it is seriously a very hard squash), a successful method is to cut off both ends so you have to flat surfaces to work with. Using a large, sharp chef knife and cut it lengthwise in half, use a spoon to scoop out the seeds, and bake.
The quickest way to cook is to cut the squash in half and cook it face-down in a baking dish. I like to add a little water to the pan or cover it with foil to help things along; the steam helps keep surfaces of the squash from drying out and makes the resulting strands of tender squash. The squash is ready when you can easily pierce a fork through the flesh all the way to the peel. To scrape out the squash into spaghetti like strands, flip the squash cut side up. Use a fork to gently pull the squash flesh from the peel.