Greentree Naturals CSA Summer Squash Recipes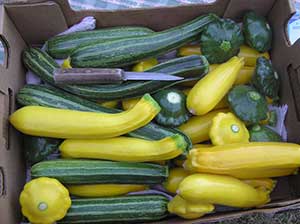 We grow many different varieties of summer squash and they come in all different kinds of shapes and sizes. It is curious to me that so many people think zucchini and summer squash are separate; they are in the same category. All kinds of summer squash are an excellent source of manganese and vitamin C as well as antioxidant nutrients. They are versatile for cooking and you can add them to almost any dish.
Finishing Touches for Steamed or Sautéed Squash
Butter: Cut steamed or sautéed squash into chunks or slices and reheat in butter, or butter and lemon juice. Sprinkle with herbs, salt, and pepper.
Mashed Squash: Cook squash until tender, drain, mash, and drain again. Add butter, salt, pepper, and herbs to taste. Beat in finely grated cheese if you wish.
Pat dry halved and blanched squash and sprinkle with generous amount of grated feta, Swiss, or cheddar cheese. Cover with buttered bread crumbs or dot with butter. Run under the broiler until brown and crusty.
Sautéed Grated Squash (with lots of options)
2 ½ pounds summer squash (any kind will do, mix 'em up if you like)
Salt
4 Tablespoon butter
Freshly ground pepper
Wash and dry the squash. Trim the ends. Grate on the largest holes of the food grater or in your food processor. Salt and let drain for 30 minutes. If you wish, rinse to remove the salt. Firmly, but gently, squeeze the moisture from the squash. Heat the butter in a sauté pan and cook the squash for 3-5 minutes until tender, stirring to coat with butter. Season with pepper and salt, taking into consideration the salt already on the squash.
Other options:
Sauté whole peeled garlic for 30 seconds then add squash.
Sprinkle with freshly chopped herbs, such as basil, dill, or mint.
Combine grated yellow and zucchini squashes; add grated red pepper for color, if you like.
Sauté finely chopped onions, shallots, or scallions in butter until wilted then add squash.
Sauté the grated squash for 2 minute sprinkle with salt and pepper, add 1 cup heavy cream. Cook gently until the cream reduces and coats the squash. Vary the flavorings with herbs such as rosemary and tarragon – or spices such as curry.
Combine squash with more assertively flavored vegetables, such as greens. Use equals amounts of squash and blanched, chopped spinach, kale, broccoli, turnip or mustard greens, or Swiss chard leaves. If the other vegetables are young and tender, you need only to julienne or chop them finely before sautéing until wilted and free from moisture. Then sauté with squash. Blanch older, larger vegetables first, squeeze them dry, and sauté before adding to squash.
Squash Fritters
2 eggs
2 cups grated zucchini (or squash of choice)
1/4 cup unbleached or whole wheat flour
1 Tablespoon melted butter
Salt and Pepper
1 teaspoon dried mint
2 Tablespoon finely crumbled feta or parmesan cheese
Oil
Beat eggs & combine with remaining ingredients except oil. Spoon 3-4 tablespoons mixture per fritter and fry in hot olive oil until browned and crisp on both sides. Drain and serve. (Makes 6-8 medium fritters) You can double or triple the recipe. You can add herbs or cheeses, grated onion, chives, or scallions. Excellent as an appetizer or in pita bread.
PASTA with Zucchini or Summer Squash
3 pound squash
Salt
4 TB extra virgin olive oil
1-2 cloves chopped garlic
Pepper
1 lb pasta, such as linguini, rigatoni, fettuccini, angle hair, etc.
3/4 cup grated Parmesan cheese
Wash, trim, and grate the zucchini. Salt and let drain for 30 minutes. Squeeze out the moisture. You should end up with 6 cups. In a sauté pan, heat the olive oil and cook the garlic for 30 seconds. Add the zucchini and cook until barely tender, stirring to coat with the oil. Season with salt and pepper.
Other options:
Use 6 cups chopped, julienned, or sliced zucchini. Salt & pat dry before proceeding. Combine the hot pasta with 1/2 pound grated mozzarella cheese, 1/2 cup grated Parmesan cheese, and squash. The cheese will melt into a creamy sauce.
Add sliced, sautéed mushrooms.
Toss with chopped basil, parsley, mint or other herbs.
The Best Zucchini bread
3 cups flour
1 tsp baking powder
1 tsp baking soda
1 tsp salt
2 tsp cinnamon
1/2 tsp nutmeg
3 eggs
1/+ 3/4 cup sugar
1 cup olive or vegetable oil
1 + 1/2 tsp vanilla extract
2 cups lightly packed coarsely grated zucchini
1 cup raisins or dried cranberries (optional)
3/4 cup nuts (optional)
1. Sift the dry ingredients together. Beat the eggs with the sugar, oil, and vanilla. Gradually beat in the dry ingredients. Stir in the zucchini, adding raisins and nuts if you like.
2. Divide between 2 greased 9 x 5 inch loaf pans and bake in a preheated 350 degree oven for 50 to 60 minutes. (makes 2 loaves)
If you don't use up all of your summer squash, just grate it into two cup portions and put it in gallon or quart freezer bags to use later. Most recipes call for two cup increments. You can pat the bag flat and it will take up less room in your freezer. Summer squash freezes well without any blanching.
Creamy Zucchini-Cumin Dip from Farmer John's Cookbook
Treat your zucchini like cucumbers! As in many classic cucumber recipes, the grated raw zucchini for this salad is salted and drained before being used. Salting tenderizes the zucchini, mellowing its "raw edge," and prepares it to absorb the flavors from the other ingredients in the dish. We know the classic combination of sour cream and onion is grand, and lime, cumin and a touch of paprika give it character. This works great as an all-purpose party dip—double the recipe if you're making it for a party. Or use it as a garnish for tacos or chili.
Makes 1+1/2 cups
4 small or 2 medium zucchini, coarsely grated
2 teaspoons salt
1 cup sour cream
2 tablespoons finely chopped onion
1 tablespoon freshly squeezed lime juice1 teaspoon cumin seeds or 1/2 teaspoon ground cumin
Freshly ground black pepper
Paprika
1. Place the zucchini in a medium bowl; add the salt and mix well. Transfer to a colander and set in the sink to drain for a least 15 minutes, up to 30 minutes.
2. Meanwhile, put the sour cream, onion, lime juice, and cumin in a large serving bowl; stir until well combined. Season with pepper and paprika to taste.
3. Squeeze as much moisture as you can from the zucchini with your hands; add the zucchini to the sour cream mixture. Stir until thoroughly combined.
4. Cover and refrigerate for at least 2 hours. Serve cold or at room temperature.
Zucchini and Summer Squash Cornmeal Coating from Farmer John's with adaptations from Diane's kitchen
1 cup cornmeal
Salt
Freshly ground black pepper
2 small or 1 medium yellow summer squash, halved crosswise, each half sliced lengthwise into 1/4 inch thick strips
2 small or 1 medium zucchini, halved crosswise, each half sliced lengthwise into 1/4 inch thick strips
1 cup flour
1 egg, beaten
Olive oil
Chopped herbs of choice
1. Mix the cornmeal with the salt and pepper to taste in a shallow bowl (mix in herbs at this time if you are using them).
2. Working with one piece of squash at a time, coat it lightly in flour and shake off any excess. Next, dip the floured squash in the beaten egg, letting the excess drip off, then dip it in the cornmeal and coat well. Set the coated squash aside. Repeat process with the remaining squash.
3. Line a plate with a paper towel. Pour enough oil into a large skillet to thoroughly cover the bottom and heat over medium-high heat. Transfer as many of the coated slices to the skillet as will easily fit and cook until they are brown, about 5 minutes. Flip the slices and cook until brown, about 5 minutes more. Transfer the cooked slices to the paper towel to lined plate to drain and cool. Scrape off any leftover burning pieces of cornmeal from the skillet, add more oil if necessary, and repeat the cooking process with the next batch of squash and zucchini.
Season with additional salt to taste and serve slightly warm or at room temperature.
Zucchini Crusted Pizza
This is the best zucchini recipe ever - Zucchini crust pizza. It's super simple to make and tastes simply scrumptious! The crust can be made gluten free by substituting oat or almond flour. I'd like to encourage you to stock up on zucchini freeze and preserve for the winter ahead. All you need to do is shred the zucchini into 8 cup portions and freeze in freezer bags (press bag flat for easy storage).
8 cups shredded zucchini
1 cup shredded cheddar cheese
2/3 cup flour (unbleached, almond, or oat flour)
2 cloves garlic, pressed or minced
3 tsp dried oregano
1 tsp basil
2 eggs, beaten
1/2 tsp salt
Homemade Pizza Sauce
4 large tomatoes, quartered
2 tablespoons olive oil
2 garlic cloves, pressed or minced
1 tablespoon fresh oregano (or dried)
1 tablespoon fresh thyme (or dried)
1 tsp salt
Zucchini Pizza Crust
Preheat oven to 450F.
In a large bowl, toss the zucchini with 1 teaspoon coarse salt and set aside for 15 minutes. Squeeze the excess moisture out of the squash by wrapping it up in a clean tea towel or piece of cheese cloth and wringing it out, discarding the water.
Once all of the excess moisture has been wrung out and discarded, place the shredded zucchini back into the bowl and add the cheddar cheese, flour, garlic, oregano, basil, eggs, and salt.
With your hands, incorporate all of the ingredients together.
Place the zucchini mixture onto a piece of parchment paper at least 15" in diameter, set on pizza pan or cookie sheet.
Using your fingers, spread the zucchini crust mixture to form a circle about 14" in diameter, 1/2" thick. Pinch the edges up so that it forms a nice crust.
Once the pizza crust has been shaped, bake for 8 minutes or until the crust starts to brown.
Once the zucchini crust has baked for 8 minutes, remove from oven and top the pizza with sauce and any additional toppings that you'd like.
Once the toppings are on, return to oven and bake for an additional 5 minutes (until done).
Homemade Pizza Sauce
In a large heavy bottomed sauce pan, add the tomatoes, olive oil, garlic, oregano, thyme, and salt.
Bring to a boil, breaking up the tomato. Lower the heat, then simmer for 15-20 minutes.
Once simmered, puree all of the ingredients in a blender.
Diane's Blueberry Zucchini Cake with Lemon Buttercream
I came across this recipe on-line and tweaked it, as I do many, an d managed to come up with an easy cake that was excellent, moist, and quite delicious. I only use olive oil for all of my cooking and everything seems to turn our just fine.
3 eggs, lightly beaten
1 cup olive oil (or vegetable oil)
3 tsp vanilla extract
1 1/2 cup white sugar
2 cups finely shredded and drained zucchini
3 cups unbleached flour
1 tsp salt
1 tsp baking powder
1/4 tsp baking soda
1 pint fresh blueberries (reserve a few for garnish if you like)
Instructions
Preheat oven to 350 degrees. Prepare two 8 inch round cake pans
Grate a large zucchini (or 2 small) and squeeze to drain most of the liquid out. You need a total of 2 cups of shredded zucchini.
In a large bowl and using a hand mixer, beat together the eggs, oil, vanilla, and sugar. Fold in the zucchini and mix well.
Slowly add the flour, salt, baking powder, and baking soda. Gently fold in blueberries. Divide batter equally between prepared cake pans. *I cut parchment paper to fit the bottom on the cake pan for easy removal.
Bake 35-40 minutes in the preheated oven, or until a toothpick comes out clean. Cool 20 minutes in pans, then turn out onto wire to cool completely.
Lemon Buttercream
1/2 cup butter (melted)
1 1/2 cup confectioners' sugar
2 tablespoons lemon juice (juice from about 1 lemon)
1 teaspoon vanilla extract
1/8 teaspoon salt
To make Lemon Buttercream:
Combine butter, sugar and salt and beat till well combined.
Add lemon juice and vanilla and continue to beat for 3-5 minutes or until creamy.
Pour /spread over first layer of cake; set second layer on top of first and pour/spread over second layer. Top with extra blueberries.
Chocolate Zucchini Cake
This is an easy, yummy sweet treat and yet another great thing to do with all that zucchini that you get. I often freeze grated zucchini (or any summer squash) into portions that go with particular recipes. This is one that, if you like chocolate cake, will become an easy favorite.
Ingredients
2 cups all-purpose flour
2 cups white sugar
3/4 cup unsweetened cocoa powder
2 teaspoons baking soda
1 teaspoon baking powder
1/2 teaspoon salt
1 teaspoon ground cinnamon
4 eggs
1 1/2 cups OLIVE oil
3 cups grated zucchini
3/4 cup chopped walnuts
Directions
Preheat oven to 350 degrees F (175 degrees C). Grease and flour a 9x13 inch baking pan.
In a medium bowl, stir together the flour, sugar, cocoa, baking soda, baking powder, salt and cinnamon. Add the eggs and oil, mix well. Fold in the nuts and zucchini until they are evenly distributed. Pour into the prepared pan.
Bake for 50 to 60 minutes in the preheated oven, until a knife inserted into the center comes out clean. Cool cake completely before frosting with your favorite frosting. It doesn't really need a frosting.
*You can sprinkle chocolate chips on top before it goes into the oven which makes a chocolate icing ….spread with a spatula once it comes out of the oven