Greentree Naturals Garlic Scape Recipes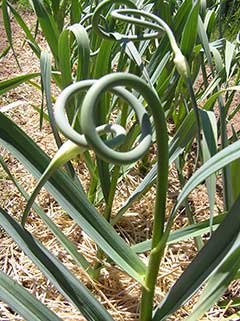 Garlic Scapes are the flower stalks of hard neck garlic plants, although they don't produce a flower. These stalks start to appear a month or so after the first leaves of the garlic. We always cut them off the plant, since leaving them diverts the plants strength away from forming a larger bulb. Garlic scapes are both edible and delicious. They freeze very well. Simply chop them up and put in freezer bags, or even better, make garlic scape pesto with them (see recipe below).
Ideas for garlic scapes
(Use all of the scape except the pointy tip as it's tough)
A simple but wonderful garlic scape spread or dip can be made by chopping some scapes up and mixing them with softened cream cheese (or sour cream) and dill.
You can add garlic scapes to mayonnaise to make an aioli. When combined with mayonnaise, the flavor of chopped garlic scapes becomes milder and the savory notes are more apparent.
You can also make a nice garlic scape dressing with sour cream to add to salads, use as a dip for crackers, or to spoon over a farm fresh salad.
You can also chop up garlic scapes and use them for seasoning, just like regular garlic.
Chop scapes in one inch pieces, sauté in brown butter and add fresh sweet corn.
Use as you would asparagus.
Add to an omelet or a frittata.
Makes salads and pasta a bit more interesting. It has "secret ingredient" potential.
Grill, roast, or broil with olive oil and salt.
Garlic scapes sautéed in butter are excellent with mashed or lightly browned diced potatoes for a quick side dish.
Puree with your favorite dips to give it a subtle garlicky punch and a cool shade of green.
Stir-fry with rice, noodles, vegetables, or meats.
Garlic Scape Pesto
1/2 cup garlic scapes, finely chopped
4 T fresh lemon juice
1/2 cup olive oil
1 cup grated parmesan cheese
salt to taste
Put garlic scapes and lemon juice in bowl of food processor with steel blade, and process until scapes are very finely chopped. With food processor running, add oil through the feed tube and process 2-3 minutes. Remove lid, add half of parmesan cheese and process 2 minutes, then add the rest of cheese and salt and process 2-3 minutes more. Serve tossed with hot pasta; Excellent on fish, mix with mayo for green garlic mayo on sandwiches, good on bread, chicken, beef, pork….freezes well.
Garlic Scape Humus
2 cans of chick peas (garbanzos), drained
1 cup sesame seeds or tahini
2 Tablespoons olive oil
½ cup lemon juice
½ cup fresh chopped garlic scapes
Place all ingredients in a blender and mix on high until a thick paste forms. Salt to taste.
Veggie and Garlic Scape Pizza
Pizza crust (I make one using sour dough but you can buy one readymade if you like)
1 block cream cheese, softened
1/2 of Ranch salad dressing
Veggies of choice (asparagus, spinach, broccoli, red peppers, zucchini, etc.), sautéed or cooked
Bleu cheese crumbles, optional
Garlic scapes (minced, whole, or chopped)
Cooked shredded or diced chicken, optional Make crust and partially bake. Poke holes with a fork around the crust, except for the outer 1" edge.
Mix the veggies with the cream cheese and Ranch dressing. Salt/Pepper to taste. Spread on crust.
Top with chicken, bleu cheese, and scapes, then mozzarella cheese.
Bake at 350 degrees until the cheese bubbles and it's hot!
Grilled Garlic Scapes
Grilled scapes are sweet with a mild garlic/onion flavor. Even our children love them!
Wrap scapes in tinfoil with a little bit of olive oil. Some people just lay tinfoil on the grill, add oil, and grill uncovered.
Grill until tender.
Salt if desired, and enjoy!
Pickled Garlic Scapes
1 pound or more of scapes, whole
3 cups vinegar
5 cups water
¼ cup kosher salt
Fresh Basil Leaves
Chili Flakes
Boil the water, vinegar & salt solution. Pack hot jars with whole scapes, 1 fresh basil leaf, a pinch of chili flakes (depending on your spice tolerance) and then the brine. Put on lids, place in a hot water canner and boil for 45 minutes. Leave at least 2 weeks before serving to get best flavor.
Garlic Scape Salad Dressing
2 garlic scapes, coarsely chopped
2 green onions, coarsely chopped
1 teaspoon honey
2 teaspoons Dijon mustard or similar brown mustard
4 tablespoons red wine vinegar
1 tablespoon lemon juice
dash salt
1/8 teaspoon fresh ground black pepper
1/2 cup extra virgin olive oil
Preparation
In a blender, combine the garlic scapes, onions, honey, mustard, red wine vinegar, lemon juice, salt, and pepper. Blend until smooth. With blender on low, slowly add the olive oil until well blended. Makes 1 cup.