Greentree Naturals Kale Recipes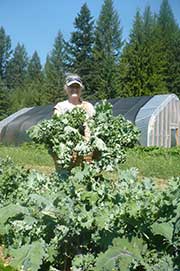 Kale is one vegetable that I never particularly cared for most of my life until we started growing it, and before I learned how good it was for me. Now that I've learned how to use it, it has become one of my favorite greens. In the springtime, I find myself craving it and can almost feel the vitamins pulsing through my veins! Kale is so rich in Flavonooids, antioxidants, Vitamin K, Vitamin A, Vitamin C, fiber and carotenoids that is considered a "super food."
Ideas:
Chop or shred young kale into small pieces. In a large sauté pan, heat olive oil or a combination of oil and butter. Toss in well-dried kale and turn for 2-3 minutes, stirring frequently. Add the kale by handfuls if necessary. If desired, add a garlic clove or chopped bambino garlic. Season to taste and serve.
Add chopped or sliced raw kale directly to hearty soups and stews for the last minute of cooking. It's nutritious, has a pleasant texture, and leaves no bitter aftertaste as do some greens.
Add raw finely sliced young kale to salads.
For a pretty and flavorful accent for omelets and quiches, add shredded or chopped kale sautéed in olive oil for 2-3 minutes.
Microwave ½ pound trimmed and washed young kale leaves placed in a covered dish will cook tender in 4 minutes.
1 pound kale with stems = 6-8 ounces leaves = 8 cups raw = 2 ½ cups cooked.
4 cups finely chopped raw kale will wilt in cooking to barely 1 cup.
Diane's Favorite Kale Salad
2 TBS lemon juice (about 1 lemon)
2 TBS olive oil
1 TBS honey
1 tsp salt + tsp pepper
1 pound kale (mixed or solo kind)
1/2 cup slivered almonds, walnuts, or sunflower seeds (roughly chopped and roasted)
Tear or chop leaf from stems into small pieces into a bowl; set aside nuts; mix the rest of ingredients well and pour over chopped kale and mix to coat the kale completely. Let stand 20 minutes for flavors to mingle and kale to tenderize. Salt and pepper to taste. Nice additions: Parmesan cheese, feta, toasted tofu, apples, tangerine slices. Mixing tall three nuts is also nice.
Massaged Kale Salad and Grapes with Poppy Seed Dressing
1 bunch kale, stemmed and sliced into ribbons
1 lemon
Olive oil
Sea salt
Here's what I added to my massaged kale:
A couple handfuls each red grapes
1 ripe avocado
¼ cup toasted pine nuts or slivered almonds or walnuts
Poppy Seed Dressing / Whisk all ingredients together
¼ cup olive oil
2 tablespoons apple cider vinegar
1 teaspoon Dijon mustard
1 shallot, diced
1 tablespoon poppyseeds
Pinch sea salt
1 teaspoon honey
For the massaged kale:
1. In a large bowl, dress kale with lemon juice and olive oil onto kale leaves and add a pinch or two of sea salt. Roll up your sleeves and massage kale until it's deep dark green, soft, and tender, 2 to 3 minutes.
2. Add anything you like: fruits, veggies, cooked or sprouted grains and legumes, nuts and seeds. Get creative. Once you've massaged your kale, store it in a tightly sealed container for up to 4 days in the fridge.
Kale with Tomato and Feta Recipe
2 TBS olive oil
1 tsp minced garlic
1 bunch kale
1 medium tomato
2 oz. feta cheese
To taste salt and pepper
1. In a large skillet, cook the garlic in olive oil over medium heat.
2. While the garlic is cooking, dice the tomato. Add the tomato to the skillet and cook for 3-5 minutes.
3. While the tomato is cooking, remove the stems from the kale, cut the leaves into chunks and rinse well under cool water.
4. Add the kale to the skillet and cook until wilted (about 5 minutes). Season the kale salad with salt and pepper, crumble the feta over top, and serve.
Sauteed Kale
1 ½ pounds kale, stems removed, coarsely chopped.
3 TBS olive oil
2 cloves of garlic or 2 garlic scapes, finely sliced
½ cup vegetable or chicken stock or water
2 TBS red wine vinegar
Directions: Heat olive oil in a large saucepan over medium-high heat. Add the garlic and cool until tender. Raise heat to high, add the stock and kale and toss to combine. Cover and cook for 5 minutes. Remove cover and continue to cook, stirring until all the liquid has evaporated. Season with salt and pepper to taste and add vinegar.
Kale Tabouli Recipe
1/4 cup of uncooked quinoa
1/2 cup boiling water
A bunch of kale – about 11 leaves, finely sliced
A pinch of salt
1/2 onion, finely diced
Juice of 1 lemon
Olive oil
A handful of flat parsley
1/2 cup semi-sundried tomatoes, diced
1. Cook quinoa according to the packet instructions – see Note 1 for how to cook quinoa.
2. Add a tablespoon of olive oil in a pan and heat over medium heat. When the oil is hot, add kale and a pinch of salt. Sauté until the kale turns bright green and transfer to a large salad bowl to cool – see Note 2.
3. Juice a lemon and add diced onion to macerate a little. In the meantime, finely slice a handful of parsley and dice semi-sundried tomatoes.
4. Combine quinoa, parsley and sundried tomatoes with the kale in the salad bowl. Add olive oil to diced onion macerated in lemon juice (olive oil to lemon juice ratio about 2:1). Whisk to mix and pour dressing into the kale salad mixture. Toss to combine all the ingredients. Drizzle more olive oil if necessary. Serve immediately.
Note 1 To cook quinoa, the water to uncooked quinoa ratio is 2:1. I cook quinoa in boiling water, covered. When the water is ALMOST absorbed by the quinoa, I turn off the flame and allow to quinoa to sit for a couple of minutes (covered) until all water is being absorbed.
Note 2: Do not sauté the kale for too long. I don't want to wilt the kale…but just to get rid of the "raw taste" of kale.
One Pot Kale and Quinoa Pilaf Recipe
Serves 2-4 (can be shared with kids 6+ mos)*
2 cups salted water
1 cup quinoa
1 bunch kale, washed, ribs removed and chopped into 1-inch pieces
zest of 1 lemon and juice of 1 lemon, divided
1 Tbsp walnut oil (you can substitute another nut oil or olive oil)
1/4 cup crumbled feta cheese
3 Tbsp toasted pine nuts
2 scallions, chopped (green and white parts) salt and pepper
Directions
1. Bring salted water to a boil in a covered pot. Add the quinoa, cover, and lower the heat until it is just enough to maintain a simmer. Allow to simmer for 10 minutes.
2. Add kale to the pot, piling the leaves on top of the quinoa. Cover and simmer for another 5 minutes. Turn off the heat, leaving the covered pot on the stove. Allow the kale and quinoa to steam for another 5 minutes. It's done when all of the water has been absorbed and the quinoa and kale are tender. If the quinoa still has a hard white center, add a little bit of water and steam longer.
3. In the meantime, in a large serving bowl combine lemon zest, half of the lemon juice, oil, feta, pine nuts and scallions.
4. Fluff the quinoa and kale pilaf and add it to the bowl with the zest, juice, oil and other ingredients. Toss to combine. Add remaining lemon juice and salt and pepper to taste. Serve!
*Note: This kale salad is great to share with first time eaters. Just be sure to puree to an age-appropriate consistency; you may need to add water. Also, be sure to use pasteurized feta cheese.
Kale Chips
1 bunch of kale
Olive oil
1. Remove stems and tear leaves into large pieces (about the size of a saltine cracker).
2. Wash and thoroughly dry the leaves before beginning.
3. Don't skip the oil, but don't drench it in oil either. A little bit goes a long way. Use about TBS of oil per baking sheet of kale chips. "Massage" the oil into the leaves to coast leaves. If you want to add seasoning, this is the time to do it. Try garlic powder, chili powder, onion powder, smoked paprika, sea salt, cayenne, nutritional yeast…just a light sprinkle of each.
4. Spread kale into a single layer on a baking sheet. Spread them out and rotate the baking sheet half-way through baking. There's no real need to flip the chips.
5. It's all about the low-heat for even baking. Bake at 300F for 10 minutes, then rotate the pan and bake for another 15 minutes.
6. Cool for just a few minutes on the baking sheet. They will firm up as they cool. Store in zip lock bag once cooled.
Kale Crumbles
Great to crumble and sprinkle over rice, soup, salad or any dish that needs some salty crunch! Eat it as a snack too!
Olive oil 
1 big bunch of kale, roughly cut into 2 x 2 pieces
3 tablespoons freshly grated Parmesan cheese
Preheat oven 350 degrees. Spread thin layer of olive oil across baking stone or cookie sheet with your fingers. Spread kale across pan. Bake for 10 minutes, mixing once. Sprinkle Parmesan over kale and bake for an additional three minutes. Remove from oven when kale seems crispy. Cool of plate or tray.