Greentree Naturals CSA Salad Dressing Recipes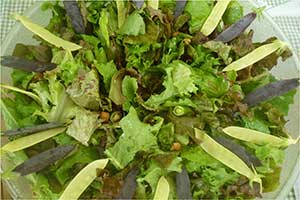 These are a few of our favorite simple salad dressing recipes.
Using farm fresh salad greens is the first step in having a fabulous salad, but the salad dressing is what makes your salad greens sing. Salad dressing is easy to make, and in most cases, is way better than anything you can buy at the grocery store.
This classic salad dressing also makes a fine sauce for vegetables, such as steamed green beans, and main dishes, such as broiled chicken or fish.
Simple Vinaigrette
¼ cup white-wine vinegar
1 Tablespoon Dijon mustard
¼ teaspoon sea salt
1/8 teaspoon pepper
Pinch of sugar
¾ cup extra-virgin olive oil
½ cup olive oil
In a screw-top jar, shake the vinegar, mustard, salt, pepper, and sugar together until combined. Add the oil and shake until thoroughly mixed. (Makes 1 cup) Vinaigrette keeps in the refrigerator for up to two weeks. The oil and vinegar will separate; just let it come to room temperature and shake to re-emulsify.
Vinaigrette Variations
Curried Vinaigrette: Add ½ teaspoon curry powder and 1 minced shallot or green onion to the vinegar and honey. Shake well before adding the oil.
Garlic Vinaigrette: In a bowl, crush 1 garlic clove or a tablespoon of chopped garlic scape with ¼ teaspoon pepper to a paste (food processor or mortar and pestle works well for this). Stir in the vinegar and honey. Transfer mixture to a screw-top jar; add the oil and shake well. Prepare at least 2 hours before using to allow garlic flavors to blend with other ingredients.
Herbal Vinaigrette: Add 2 teaspoons each of finely mined chives, parsley, basil, and tarragon (or any combination you have on hand) to any of the above vinaigrette dressings.
Mustard Vinaigrette: Shake 1 teaspoon dry mustard together with the vinegar and honey. Add the oil and shake.
Tomato Vinaigrette: Add 1 tablespoon tomato paste to Mustard Vinaigrette or Garlic Vinaigrette
Honey Balsamic Vinaigrette
2 Tablespoons balsamic vinegar
1 Tablespoon Dijon mustard
1 teaspoon honey ¼ cup extra-virgin olive oil
Sea salt and ground pepper
In a small bowl, whisk together vinegar, honey, mustard, and olive oil. Season with salt and pepper.
Caesar on the Light Side
1/3 cup low-fat or nonfat Greek style yogurt
2 anchovy fillets, mashed
1 garlic clove, minced
2 Tablespoons fresh lemon juice
2 teaspoons Worcestershire sauce
2 Tablespoons extra-virgin olive oil
¼ cup freshly grated Parmigiano-Reggiano cheese
Salt and pepper
In a small bowl, whisk the yogurt with the anchovies, garlic, lemon juice and Worcestershire sauce. Whisk in the oil and half of the cheese and season with salt and pepper. Serve on top of romaine lettuce.
Spicy Asian Salad Dressing
Use this dressing with cucumber salad, green bean salad, or cabbage salad. Makes about ½ cup.
2 Tablespoons olive oil
2 Tablespoons rice vinegar
1 Tablespoon fish sauce
2 teaspoons minced peeled fresh ginger
1 jalapeno, seeded and finely chopped
1 ½ teaspoons sugar
In a medium bowl, whisk together all ingredients.
Green Goddess Salad Dressing
½ ripe avocado, peeled
¾ cup lowfat buttermilk
3 tablespoons white wine vinegar
1/2 cup fresh flat-leaf parsley leaves
1 scallion, roughly chopped
1 Tablespoon fresh tarragon leaves
1 garlic clove
In a food processor, combine all of the ingredients. Process until smooth and creamy.
DILL YOGURT DRESSING
½ cup yogurt
¼ cup olive oil or other oil
1 tablespoon finely chopped fresh dill or 1 teaspoon dried dill weed
Pinch freshly ground black pepper
Dash cayenne pepper
Mix by hand with wire whisk or fork