Greentree Naturals Cucumber Recipes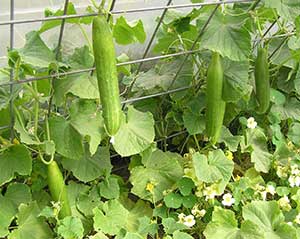 We grow several different kinds of "slicing" cucumbers as well as several varieties of "pickling". All varieties of cucumbers can theoretically be used as salad cucumbers, also known as slicing cucumbers, or as pickling cucumbers. However, some varieties are much better suited for one type of preparation that the other. Cucumbers have both antioxidant and anti-inflammatory properties and fresh cucumbers have phytonutrients.
Lemon cucumbers can be eaten fresh sliced or pickled. See the Lemon Cucumber recipe page for recipes that are best suited for lemon cukes.
A Few Quick Serving Ideas
Use half-inch thick cucumber slices as petite serving "dishes" for chopped vegetable salads.
Mix diced cucumbers with sugar snap peas and mint leaves and toss with rice wine vinaigrette.
For refreshing cold gazpacho soup that takes five minutes or less to make, simply purée cucumbers, tomatoes, green peppers and onions, then add salt and pepper to taste.
Add diced cucumber to tuna fish or chicken salad recipes.
5-Minute Cold Cucumber Salad
1/2 medium red onion, sliced thin
1 medium clove garlic, chopped
1 medium cucumber, halved, seeds removed, and sliced
1 medium tomato, cubed
1 medium red bell pepper, diced
1 TBS feta cheese
6 kalamata olives, cut into halves or quarters
2 TBS fresh lemon juice
Sea salt and pepper to taste
Fresh or dried dill (optional)
Chop garlic and slice onions and let sit for 5 minutes. Combine all ingredients and serve.
Tiger Salad
This is a refreshing cucumber salad with cilantro standing in for the lettuce-great alongside spicy foods.
1 tablespoon unseasoned rice vinegar
2 teaspoons toasted sesame oil
1 teaspoon toasted sesame seeds
1/4 teaspoon crushed red pepper flakes
1 bunch cilantro leaves with tender stems, cut into 2 inches pieces
4 celery stalks, thinly sliced on a diagonal
2 small cucumbers or 1/2 large, thinly sliced
6 scallions, thinly sliced on a diagonal
Kosher salt, freshly ground pepper
Whisk vinegar, oil, sesame seeds, and red pepper flakes in a large bowl. Add cilantro, celery, cucumbers, and scallions. Season with salt and pepper and toss to combine. Can be made 6 hours ahead. Cover and chill.
Cucumber –Yogurt Salad
A refreshing accompaniment to a main course of meat or fish, this cucumber-yogurt salad also makes a tasty filling for pita bread. If the cucumbers are grated instead of chopped, this mixture can be served as a dip.
4 large cucumbers, peeled
1/2 teaspoon salt
2 cups low-fat plain yogurt
2 teaspoons lemon juice
2-4 cloves garlic, minced
Freshly ground pepper, to taste
2 tablespoons chopped fresh parsley, or 2 tablespoons chopped fresh mint
1 tablespoon extra-virgin olive oil
Cut cucumbers in half and seed. Cut each cucumber boat in half lengthwise and then halve each quarter. Cut crosswise into 1/4-inch pieces. Place in bowl, sprinkle salt on top, toss and set aside for at least 20 minutes. Combine yogurt, lemon juice, garlic, pepper, and parsley (or mint) in a medium bowl. Stir in the oil briskly. Drain the cucumbers, return them to the bowl, pour the yogurt mixture over and toss well.
Summer Tomato, Onion, and Cucumber Salad
This is best enjoyed at the height of summer, when tomatoes and cucumbers are fresh from the gardens!
3 tablespoons rice vinegar
1 tablespoon canola oil
1 teaspoon honey
1/2 teaspoon salt
1/2 teaspoon freshly ground pepper, or more to taste
2 medium cucumbers
4 medium tomatoes, cut into 1/2-inch wedges
1 Vidalia or other sweet onion, halved and very thinly sliced
2 tablespoons coarsely chopped fresh herbs, such as flat-leaf parsley, chives and/or tarragon
Whisk vinegar, oil, honey, salt and pepper in a large shallow bowl.
Remove alternating stripes of peel from the cucumbers. Slice the cucumbers into thin rounds. Add the cucumber slices, tomatoes and onion to the dressing; gently toss to combine. Let stand at room temperature for at least 30 minutes and up to 1 hour.
Just before serving, add herbs and toss again.
Cucumber Relish
2 cups peeled, seeded and thinly sliced on diagonal varieties of cucumber
Dressing:
¼ teaspoon salt
1 tablespoon sugar or agave syrup
1½ tablespoons distilled vinegar
1 teaspoon fish sauce (omit for vegetarian)
Mix all ingredients together until salt and sugar are dissolved. Set aside.
Mix the cucumber with the dressing and set aside for 10 minutes, serve.
Add at least 3 to 4 of the following ingredients into your cucumber dressing. Taste for balance. Otherwise, make another batch of dressing and add to your version of cucumber relish.
Improvisation:
2 to 3 Tabasco chilies, coarsely chopped
1 to 2 shallots, peeled and thinly sliced
1 clove garlic, peeled and thinly sliced
1 tablespoon coarsely chopped cilantro
1 tablespoon coarsely chopped mint
1 to 2 radishes, slivered
1 to 2 strawberries, thinly sliced (or your choice of tangy fruits)
1/3 cup jicama slivers
1 tablespoon dry-roasted chopped peanuts or other kinds of nuts
1 tablespoon crispy shallot
1 tablespoon crispy garlic
DIANE'S NEVER FAIL DILL PICKLES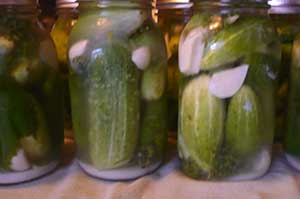 Add to each sterilized 1 Quart jar the following:
4 ½ Teaspoons Plain Salt (NOT iodized salt)
One Quarter to Half Head Fresh Dill
2 Cloves Garlic quartered
1 Hot Pepper or more/less to taste (or none if you don't like it)
Pickling Cucumbers to fill the jar. Up to four inches length is ideal. Half or Quarter larger cucumbers to fit. Do not force cucumbers as they will turn to mush; PACK LIGHTLY!
THEN, Add cold water to within ¼ inch of the top and screw down sterilized lid snugly, NOT tightly. Jars may or probably will leak during curing. That is okay. Place on news paper to soak up salt water.
Turn Daily for three weeks to keep salt in solution. Ready to eat after four to six weeks. May fizz and bubble when opened, and that's just fine. Refrigerate after opening. These sometimes called Sour Pickles are best enjoyed within the first year after making.
I have substituted green beans using this same recipe.
Adding a grape leaf to each jar also improves crispness.