Greentree Naturals CSA Broccoli Recipes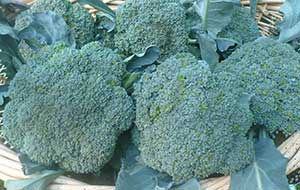 Broccoli is another one of those vegetables that I didn't like growing up. It was simply because I never tasted it fresh from the farm. We grow five different kinds, including broccoli raab, sprouting broccoli, and purple. It is good cooked or raw and is an excellent source of vitamin D, K and A. It can provide you with some special cholesterol-lowering benefits if you steam or eat it raw.
Finishing touches for Blanched or Steamed Broccoli
With Garlic: Cook 6 tablespoons butter until foamy, finely chopped garlic, and swirl together. Don't let garlic brown; pour over 4 cups lightly steamed broccoli. Replace some of the butter with olive oil if you prefer.
With Breadcrumbs: Heat 8 tablespoons butter, add ½ cup bread crumbs, and sauté until crumbs are lightly browned. Spoon over 4 cups lightly steamed broccoli, and season to taste.
With Cheese: Toss buttered broccoli with grated Parmesan or Romano cheese. Then, layer broccoli in baking dish with butter and additional cheese. Cover, and cook in preheated 350° oven until bubbly. Remove cover, and lightly brown under the broiler.
Freezing Broccoli
Wash, trim, peel, and cut lengthwise into ¾ inch thick pieces. Blanch for 3 minutes, and plunge into cold water for 3 minutes. Drain and pack into freezer bags. It will keep 6-12 months at 0°.
Broccoli Morsels (this is one of my favorite recipes!)
2 eggs
2 cups broccoli chopped into 1/4 inch
1 1/2 cup bread crumbs
1/2-1 cup freshly grated cheese (such as Swiss, mozzarella, parmesan or a combination)
2 garlic cloves minced
1/3 cup olive oil
Beat eggs and combine with all ingredients except oil. I put it all in the food processer. Form into 1 1/2 inch balls. Heat oil in a sauté pan, cook broccoli until browned on all sides, approximately 5 minutes, and drain. Makes 16 1- 1/2 inch balls
I have been experimenting with this recipe and substitute a mix of squash, broccoli, beans, onions, whatever and mix it all in a food processor for yummy veggie patties.
Serve on Pita bread with tahini or Tsiziki sauce.
Tsiziki sauce
Large cucumber
Cup plain yogurt
Teaspoon dill weed
Large cloves garlic minced
TBS lemon
Salt
Combine all the ingredients in a bowl. Let stand at room temperature 20 minutes. Excellent served with Broccoli morsels.
Diane's Broccoli Salad
This is a flavorful salad and one of our favorite dishes to take to a pot luck that everyone raves about.
Chop and mix in order in a large bowl:
3-4 crowns broccoli, finely chopped
¾ cup chopped scallions
¾ c mayonnaise
1 Tablespoon finely chopped fresh ginger
2 finely chopped garlic cloves (or more if you like it)
3 teaspoons horseradish
2 teaspoons toasted sesame seed oil
2 teaspoons lite soy
1 Tablespoon rice vinegar
½ - ¾ cup dried cranberries or raisins
pepper to taste
Chill at least one hour prior to serving to allow time for the flavors to mingle. Top with toasted almonds if desired (and they really are desired!)
Pasta with Broccoli
Here's a fast, inexpensive, meatless meal.
1 ½ -2 pounds broccoli
½ lb spaghetti, linguini, or other thin pasta
¼ - ½ cup olive oil
4-6 anchovy fillets
2 tsp chopped garlic
Hot pepper flakes (optional)
3 Tablespoon butter
Wash and cut up broccoli, removing the flowerets about 2 ½ inches down the stem. Trim and peel the floweret stems and stalks; cut into 1 ½-2 inch pieces. Blanch, drain, and dry broccoli. Boil water; add 1 teaspoon salt per quart and toss in the pasta. Cook until pasta is cooked through but still slightly chewy (al dente).
Meanwhile, heat ¼ cup of the olive oil in a large sauté pan. Chop the anchovies and mash them into the oil until almost pureed. Add the garlic and hot pepper flakes (if you want them). Stir in the broccoli and cook, tossing for no more than a minute or two, until moisture evaporates and the broccoli is coated with oil. Season with salt and pepper.
Thoroughly drain the pasta and toss with the butter. Scrape in the broccoli and flavored oil. Toss together, adding additional oil if desired. Season to taste. Yum-o-rama!