Greentree Naturals Beet Recipes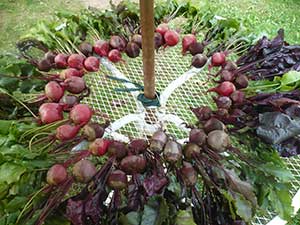 I grew up eating canned beets and hated them. Not until I grew my own and tasted the amazing flavor of them fresh from the garden did I learn to appreciate the earthy flavor. Beets have been shown to provide antioxidant, anti-inflammatory, and detoxification support. The beet greens are high in Lutein which is good for eye health.
Finishing Touches for Cooked Beets
With Butter: Reheat in melted butter. Two and one-half cups beets would take approximately 2-3 tablespoons butter. Season with salt, pepper,, and fresh lemon juice.
With Vinaigrette: Peel, slice, and serve warm dressed to taste with vinaigrette dressing.
Useful Hints
Grate raw beets into salad.
Hard water may cause beet color to fade, but you can correct this by adding a little vinegar to the boiling water.
1 pound whole beets (2-2 ½" across) placed in a covered dish with ¼ cup liquid will cook tender in 1-11 minutes in a microwave. A fast easy way to cook beets.
Grated Sautéed Beets
This recipe is simplicity itself; grate peeled or small, unpeeled raw beets and you're all set to cook.
4 medium beets
4 Tablespoon butter
Fresh Lemon Juice
Salt and freshly ground pepper
Chopped fresh dill and/or parsley
Wash, peel, and coarsely grate beets. In a covered frying pan, melt butter, add beets, and stir to coat with butter, then sprinkle with lemon juice to taste. Cover and cook over medium to low heat for approximately 10 minutes, checking occasionally to see that the beets don't burn. Cook just until tender, then season with salt, pepper, and additional lemon juice if needed. Sprinkle with dill or parsley. (Serves 4)
You can also cook beets before grating, or use leftover cooked beets.
Grate other vegetables, such as cabbage, carrots, and parsnips, cook separately, and arrange in mounds on a vegetable platter.
Beets Vinaigrette
With beets vinaigrette on hand you can concoct a variety of salads. In Holland, France, and England, this is common on every salad plate served.
2 cups cooked beets
1/4 cup chopped scallions
½ cup Vinaigrette Sauce
Grate, slice, julienne, or chunk the beets. Add scallions if you wish. Mix together vinaigrette sauce.
Vinaigrette sauce:
1-2 cloves garlic, chopped
¼ teaspoon sea salt
2 Tablespoon wine vinegar
¼ teaspoon Dijon mustard
9 Tablespoon olive oil
Freshly ground pepper
Mash garlic and salt together. Stir in vinegar and mustard. Gradually beat in oil. Grind on pepper. Makes 2/3 cup – enough for salad for 10-12. You can replace the wine vinegar with lemon juice if you want a lemony flavor for something different.
Pickled Beets
These are easy on an appetizer tray, as an accompaniment to meat, or along with a green salad.
4 cups cooked beets
1 medium onion
1 cup cider or wine vinegar
1 cup beet juice or water, or combination of both
1/4 cup sugar
Peel and slice cooked beets; chop onion, if you like, and mix with beets. Heat vinegar, beet juice or water, and sugar just long enough to dissolve the sugar, and pour over beets. Cool at room temperature, then refrigerate for 4-6 hours before serving. They'll keep a week or longer, but the beets will gradually soften. (Makes 1 quart)
One-Step Baked Beets
These beets go directly from sink to oven. Wait until just before baking to cut them up, as they dry out easily.
4 large or 6 medium beets
1 medium onion
1/3 cup stock or hot water
3 Tablespoon butter
Salt and freshly ground pepper
Thinly slice raw peeled or small unpeeled beets, and chop onion. Layer beets and onions in a small buttered casserole. Pour in hot stock or water, dot beets with butter, and season with salt and pepper. Cover and bake in preheated 350° oven for 30-60 minutes, depending upon the size and age of the beets. (Serves 4)
Sliced baked beets with Orange: Omit onions and add the grated rind and juice from one orange, layering throughout. Pour juice over and bake.
Or layer thinly sliced orange or apple in moderate amounts so you don't overpower the beets.
Simple and Delicious Beet Greens
2 bunches beet greens, stems removed
1 Tablespoon olive oil
2 cloves garlic, minced
¼ teaspoon crushed red pepper flakes (optional)
Salt and pepper to taste
2 lemons, quartered
Bring a large pot of lightly salted water to a boil. Add the beet greens, and cook uncovered until tender, about 2 minutes. Drain in a colander, then immediately immerse in ice water for several minutes until cold to stop the cooking process. Once the greens are cold, drain well, and coarsely chop. Heat the olive oil in a large skillet over medium heat. Stir in the garlic and red pepper flakes; cook and stir until fragrant, about 1 minute. Stir in the greens until oil and garlic is evenly distributed. Season with salt and pepper. Cook just until greens are hot; serve with lemon wedges.