Greentree Naturals CSA Newsletter - June 27, 2007
Fresh from the Garden News
We had 30 visitors to the farm on Sunday for a training session that we hosted for the Organic Seed Alliance. This is a national organization that we have been working with this year researching seed trials for spinach and sugar snap peas. In attendance were University of Idaho students and educators, farmers and apprentices from Montana, Washington, and Idaho. Chef Sora, who we have been working with for years fixed a gourmet lunch made of ingredients from our gardens, and the day was perfect in every way. Personally, spending a day with other farmers is as good as it gets for me!
Last week, one of our CSA members, Susan Daffron came to help weed in the garden. Another member, Marilyn McIntyre came and helped with transplanting a couple of times earlier in the season. I just wanted to say that we really appreciate them taking their time to invest in the gardens! Many CSA's require that their members spend some time in the gardens; of course, we do not, but you are welcome to do so if your schedule meets with ours.
IMPORTANT NOTE about next week delivery!
Since Wednesday is the July 4th holiday, we will make deliveries on Thursday, July 5th. So many of you are working in offices that this seems to be the most logical way to get your veggies to you. If there is an issue with that, call me. Otherwise, your delivery will be on Thursday next week instead of Wednesday. Frankly, holidays during the summer don't mean much to farmers. It's just another day, except with noisy fireworks that scare the animals.
The broccoli is looking pretty good and I suspect that you will have some in next weeks delivery. If we continue to get the sunshine, we should be getting summer squash soon as well. For now, I am making an effort to keep the amount of greens that you are getting to not be so overwhelming. There are so many things you can do with greens. Go on line and do a Google search for something like 'recipe Swiss Chard and Kale' and see what you come up with. I often find fantastic recipes this way, and it allows me to just note what ingredients that I have on hand in the search engine. The key to using all of these greens is being creative and finding new ways of cooking and thinking about the greens.
What's in the Bag
Salad Mix —Always double washed and ready to eat!
Green onions (a.k.a. scallions)
Swiss Chard
Beets—The last of them for a few weeks until the second planting grows up to size.
Summer squash– The first of many more to come!
Sugar snap peas– The last of the peas.
Herbs—Dill, French Tarragon, Greek Oregano and Basil leaf. One great way to use these herbs is to simply chop them all up with a bit of the green onion and sprinkle in your salad or on top of those sweet, wonderful tomatoes! Another way would be to mix them up with sour cream or plain yogurt as a dip or sauce for fish or chicken….be creative.
Tomatoes—These wonderful fruits come from Jerry Petrina and his wife a Deerfield Farms in Sagle area. They are vine ripe and the best around as far as we can tell. If you want to order more for canning or eating, let us know. We are going to make a point to get lots more for weeks to come until our cherry tomatoes come on.
Garlic Scapes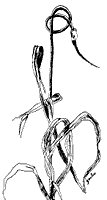 The garlic scapes will last for several weeks in the refrigerator in their plastic bags, however, you may want to consider making a pesto out of them once you have enough to do so. We have been selling pesto made from the garlic scapes for years at the farmers market and it is scrumptious!
Cut garlic scapes into 2" pieces
And place in a food processor or blender. Add enough olive oil to make it into a mash; add parmesan or Romano cheese as desired and walla! You have the perfect pesto for pasta, sandwich spreads, pizza topping, etc. Be creative! Store in the refrigerator for weeks!
Recipes
Kale and Swiss Chard Slaw
Cooking time: 30 minutes; Yield 10 cups (7-10 servings)
This recipe comes from the Moscow Food Co-op cookbook. While they say to just use kale, we have tried it by mixing in Swiss Chard and it tastes great!
Ingredients:
2 medium bunches kale & chard cut into thin strips
1/3 lb carrot, grated
1 cup red cabbage
1/4 lb marinated tofu, cubed
For the dressing:
2/3 cup cashews, finely chopped
2 tsp garlic, minced (use the scapes!)
1 tbsp ginger, minced
1 can green chilies (4 oz)
1 +1/2 tbsp tamari
3/4 cup mayonnaise or vegannaise
1. Prepare Marinated Tofu (see below)
2. Prepare vegetables and place in large bowl with chopped tofu.
3. Mix dressing ingredients together in a small bowl, then pour this dressing over the vegetables.
4. Toss well and serve cold.
Tip: There are many variations of kale slaw. This is just one that we have tried. Try adding different veggies in with the kale like bok choy, Asian cabbage, jicama, grated radishes or whatever you have. If you don't have marinated tofu, you can toss in some pumpkin seeds, nuts, sunflower seeds, chicken, tepeh or some other handy protein.
For the dressing an almond butter is very nice (instead of cashews).
Marinated Tofu
Cooking Time 30 minutes; Yield 2 servings
Ingredients:
1 pound tofu (firm or extra firm)
1/2 cup tamari
2 tbsp minced garlic (use the scapes)
Directions:
1. Cut a block of tofu into 1/2 inch wide strips and arrange on a cookie sheet or shallow pan.
2. Mix together minced garlic and enough tamari to cover and pour over tofu.
3. Let sit 10 minutes, then turn tofu over and let sit another 10-15 minutes.
4. Lightly oil grill or frying pan over medium heat. Add tofu carefully to avoid splattering and cook until brown on both sides.
Tip: This tofu is great plain, in a sandwich or cubed in salads! Add fresh or dried herbs to tamari marinade like basil, oregano, whatever sounds good. You can substitute different vinegars or red wine for some of the tamari. You can bake your tofu in the oven for a chewier texture.
Creamed Turnips with Dill Weed (from Cooks.com)
1 bunch. sliced turnips
1/2 tsp. sugar
Salt to taste
Barely cover with water and cook until just done (do not over cook). Drain down to about 1 cup stock, add 1/2 teaspoon dill weed and 2 tablespoons butter.
Return to stove and add cream mixture (1 tablespoon flour stirred until smooth in 1 cup of milk). Simmer until well blended. Taste for seasoning.
I know how most people feel about turnips but give them a try! You might find that you actually like them!
Turnip French Fries
Chop the turnip into french-fry strips and (if you wish) lightly coat with oil.
Place on a flat baking sheet and sprinkle with sea salt.
Bake at 180-190 C for 20 minutes.
Try some different seasonings.....: dried parsley and basil, a little sea salt or a touch of cayenne and sea kelp.
The philosopher who said that work well done never needs doing over never weeded a garden.
- Ray D. Everson