Greentree Naturals CSA Newsletter - June 20, 2007
Fresh from the Garden News
Now that we have most of the garden planted, we are getting into a routine that will take us through the summer. A day in the life at Greentree Naturals; get up at 4am; feed & water cats, dogs, chickens, chicks, and goats. Breakfast is followed by assorted garden chores: moving hoses around for watering seedlings, weeding, fixing hose leaks, weeding, hilling potatoes, harvesting, weeding, fertilizing using a watering can with kelp and fish emulsion…..and then, did I mention more weeding?
We have had the motto on the farm for many years of "do as much as you can, and then do some more…" This theory goes with a personal sentiment that we both were raised with which is that you always do your best, whatever you are doing. With this, we also acknowledge that some days our best will not be as good as it is other days. All that matters is that we are doing what we love. We consider ourselves fortunate to get to work together. We can't know how long we will be physically able to do what we are doing. Farming intensively on a small acreage organic farm can take its toll on your body. We are noticing that being in our mid-50's some days we feel older than others. All in all, we are in good health, good spirit and prepared to continue creating a sustainable future for ourselves as farmers.
As we look to the future, we hope to eventually turn Greentree Naturals into a farm school. We are already accredited through UI and WSU for being able to offer college credits for our apprenticeship. We want to move towards providing proper housing for students to come and study organic agriculture and sustainable small acreage production. I feel so strongly that there needs to be an on-farm environment for students to comprehend what is involved with this kind of farming operation. We will keep you posted with our progress.
Meanwhile, the arrival of summer and warmer weather will make things grow and bring you more variety in your weekly share of the garden. I know that after a winter of ten day old produce from the grocery store, that these farm fresh vegetables are so welcome and good for our health. Just remember, if you can't eat it all, consider freezing it for later or share with your friends. Since everything is 24 hours from the field to you kitchen, the shelf life in your refrigerator should be about ten days.
Eat your veggies!
Garlic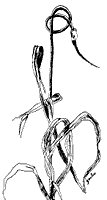 This is a drawing done by our friend Marilyn McIntyre of the garlic plant. I decided to leave the baby garlic in full form so you could see what garlic looks like as a growing plant. The 'scape' is the curled flower top of the plant. We cut these off in order to encourage the development of a larger bulb of garlic. The bulb grows underground. The baby garlic that you have hasn't yet formed a complete bulb, hence my naming it 'bambino'. The scape is excellent and can be used just like you use garlic. It is milder and will add delicious flavor to any dish.
Recipes
Turnips are members of the mustard family, and have been around since ancient times. Their roots are high in vitamin A. They need to be stored in a cold, humid environment, although no matter how carefully you store turnips, they won't last long once out of the garden.
Turnips - Young Turnip Salad with Apples and Lemon Dressing
Makes about 2 cups
1 cup peeled and grated raw turnips (about 2 medium turnips)
1 cup peeled and grated tart apples (Granny Smith is good– about 1 large apple)
1/2 cup finely chopped fresh parsley
3 tablespoons fresh lemon juice
1 tablespoon olive oil
Salt & pepper
Toss the turnips, apples, parsley, lemon juice, and olive oil in a large bowl.
Season with salt and pepper to taste. Cover and refrigerate for 1 hour.
Grated Turnips
Grated turnips can be added to salads raw, or sautéed as a vegetable dish. They hold a great deal of water, and lightly salting them removes excess moisture & improves the cooking process.
1-2 pound turnips
Salt
4 Tb butter
Pepper
3/4 cup heavy cream (optional)
Herbs (also optional)
Peel and grate turnips, then sprinkle with salt and set aside. After 30 minutes, squeeze the water out; you will have approximately 2-4 cups of turnips. Melt butter in a sauté pan & stir in turnips. Turn heat to low, cover, and simmer for 10 minutes. Uncover, turn heat to medium, season with salt and pepper, stir, add cream (if desired), and cook for another 1-2 minutes or until cream has heated through. Add some favorite herbs such as marjoram or basil if you wish.
Finely slice 1/2 cup leeks or onion and sauté in butter to wilt before adding turnips.
Julienne into matchstick pieces or slice paper-thin and add to stir-fry dishes; add to appetizer platters and eat raw.
Turnips and Greens
Cut leaves from turnips, trim, wash well, and dry. Cut large leaves into thin diagonal slices. Peel turnips, if desired, then melt 3 tablespoons butter in a sauté pan large enough to held the turnips in one layer. Add turnips and sauté for 5-6 minutes until lightly browned all over. Lower heat, cover, and cook until tender but still crisp, 5-8 minutes; season to taste. The time depends on the size of the turnips, but watch carefully, for they may cook faster. Remove and keep warm. Melt 2 tablespoons butter in pan, add greens, and stir to coat with butter and wilt. Season to taste and serve with turnips and greens arranged side by side.
More about turnips and what to do with them…..
Steamed Asparagus with Balsamic Butter and Pine Nuts
1 + 1/2 tablespoons pine nuts or slivered almonds
1 pound asparagus
2 tablespoons butter, melted
2 teaspoons balsamic vinegar
Salt
Freshly ground black pepper
1. Place a heavy skillet over medium heat. Add the pine nuts or slivered almonds. Toast the nuts on the dry skillet, stirring constantly, until they are lightly browned and begin to smell toasty. Be careful not to over-toast them, as they will burn very quickly. Remove the skillet from heat and transfer nuts to a dish. Set aside to cool.
2. Place the asparagus in a steamer basket, set over 1+1/2 inches boiling water, and cover. Steam until tender 4-7 minutes. Remove spears from the water and arrange on individual plates.
3. Combine the melted butter and balsamic vinegar in a small bowl and whisk until well combined. Pour this mixture over the asparagus and sprinkle on the toasted nuts. Season with salt and pepper to taste. Serve immediately.
When tillage begins, other arts follow. The farmers, therefore, are the founders of civilization.
~ Daniel Webster